| | |
| --- | --- |
| AceNotes Today | Wednesday, November 11, 2015 |
Veterans Day Events
Campus community, alumni, and friends - please join us for our annual Veterans Day Service set for today, November 11, from 11:00 a.m. - 12:00 p.m., in Wheeler Concert Hall, Krannert Hall of Fine Arts. James MacLeod, professor of history, will be the guest speaker. A light luncheon reception to follow.
Then at 7:00 p.m., MacLeod will be reading from his newly released book, Evansville in World War II, at a book launch in Room 170 (Smythe Lecture Hall) in the Schroeder School of Business Building. A reception will follow. This event is free and open to the public.
MacLeod's book will be for sale at the event and he will be signing copies.
MacLeod's book discusses the importance of Evansville to the war effort during World War II. He will explain how this industry came to be in Evansville, reveals the impact it had on the city, and how the city dealt with a time of transformation. One chapter of MacLeod's book is dedicated to the students of Evansville College who lost their lives in World War II and who are memorialized on the monument located on campus.
MacLeod was educated at the University of Edinburgh in Scotland. Since 1999 he has been a member of the history department at the University of Evansville, teaching courses in European history and the two World Wars. He has written a book on 19th-century British religion, The Second Disruption, as well as other scholarly publications. He is now working on a book on Karl Kae Knecht, longtime editorial cartoonist of the Evansville Courier, which will be published next year.
For more information on these events, please call 812-488-2141.
Newman Club Presents Small Groups With the Seminarians!
All are welcome to come share their faith, fellowship, and a simple supper with our seminarians, Ambrose and Tam, tonight from 5:00-5:45 pm at the Newman Center. These small group sessions are a great way to not only meet fellow students but to also ask and reflect about your faith. We hope to see you there!
Please call/text Kristel at (812) 760-8610 for more information!

Catholic Mass Tonight at Neu Chapel!
All are welcome to join us at 9:30 p.m. tonight in Neu Chapel for UE Newman Club's short weeknight Mass. Fr. Alex Zenthoefer of Annunciation Parish will be our celebrant and will be available for confessions beginning at 9:00 p.m.
Please call/text Kristel at 812-760-8610 for more information!

I-House: United Kingdom
This Wednesday's I-House features the United Kingdom with Lydia Taylor as the presenter! Lydia is majoring in music and theater, and her favorite hobbies are playing tennis, skiing and spending time with friends. Her favorite part about UE is meeting people from all around the world!
Make sure you come out at 7 p.m., to our usual place on the second floor of Ridgway University Center to hear all about the UK!

Writing Boot Camp: MLA Style Is Today!
Writing Boot Camp: MLA Style is planned for Wednesday, November 11, 5:00 p.m., in the Writing Center. Do you have an MLA paper due soon? This workshop will cover how to format and cite papers according to the MLA style manual, including internal citations and the works cited page. Join for this useful, 30-minute presentation.
Sierra Club Presentation Tonight
On November 12, The Sierra Club will be holding a presentation at 5:30 p.m. in Ridgway University Center's upstairs lounge. Come to this event and get the chance to win a solar powered USB charger!
Paddy Murphy Pageant Ticket Sales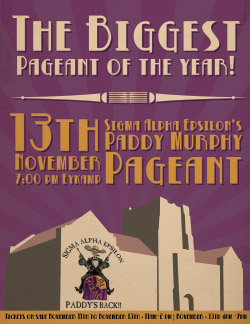 It's that time of the year again and PADDY'S BACK!!!! Get excited for Sigma Alpha Epsilon's 2nd annual talent competition! Hosted on Friday, November 13, the Eykamp Hall doors will open at 6:45 pm. Tickets will be sold during dining hours for $5. Please come and support the ladies of UE as they compete in our philanthropy benefiting Riley Children's Hospital!
Swing Dance Fundraiser for Phi Alpha Theta
Please join Phi Alpha Theta, the History Honors Society, for swing dancing and fun on Thursday, November 12, from 7:00-10:00 p.m. The Swing Cats will be directing the event at SWIRCA located on 16 W. Virginia St. The admission fee, with UE ID, will be $8 for lessons and dancing. Please contact jn125@evansville.edu with any questions.
Psychology Club Panel Set for Thursday
UE's Psychology Club will host a panel discussion on "The Psychology of Parenting," on Thursday, November 12, at 7:00 p.m. in Room 170 (Smythe Lecture Hall), Schroeder Family School of Business Building. A panel of psychologists will be discussing parenting techniques and strategies, covering a range of issues parents typically encounter, and offering best-practice approaches. This event is free and open to all UE students and the public.
UE Theatre Opens Family-Friendly Musical, Big Fish
The University of Evansville Department of Theatre proudly presents Andrew Lippa and John August's musical Big Fish, based on the novel by Daniel Wallace, and the Columbia Pictures Film. Big Fish opens Friday Nov. 13, at 7:30 p.m. in UE's Shanklin Theatre. Additional performances are at 7:30 p.m. on Nov. 14, 19, 20, 21 and at 2:00 p.m. on Nov. 15 and 22.
Set in the Deep South, this family-friendly, heart-warming, and fantastical musical is centered on Edward Bloom, a traveling salesman who possesses a strong desire to be a hero, both to himself and his son. His penchant for spinning tall tales and elaborate daydreams is solely to convince himself there is meaning and purpose to his ordinary life. This musical's moving score honors the age-old art of storytelling, by invoking the sense that imagination can transform even the humblest man's life story into an unforgettable epic adventure.
Big Fish is directed by Artistic Director R. Scott Lank, choreographed by Ricki Newman and features a 9¬-person student orchestra, led by musical director Gregory B. Rike, Professor of Music. Department Chair Eric Renschler serves as the scenic designer; Professor of Theatre Patti McCrory is the costume designer; Assistant Professor of Theatre, Stephen Boulmetis is the lighting designer; Will Koch, a senior from Santa Clause, IN., is the sound designer; Kendall Reasons, a junior from Springhill, TN., is the dramaturge; Alison Clifton, a senior from Temple, TX., serves as the associate costume designer; and Aaron Curry, a senior from Glendale, AZ., serves as the associate lighting designer. The show is stage managed by Hannah Cava, a senior from Las Vegas, NV.
The cast features Taylor Jones, a senior from Las Vegas, NV., as Edward, the larger than life story-teller, and McKenna Ceci, a junior from Peachtree, GA., as Sandra. The 25-person cast also features Nate DeCook, a junior from Holland, MI., as Will, and Konner Rudisill, an 11-year-old resident of Newburgh, IN., as Young Will.
Ticket prices are $18 for adults and $15 for senior adults, students and UE faculty and staff. UE students may obtain one free student rush ticket beginning at noon on the day of the performance they wish to attend. Including Big Fish, the rest of the Shanklin Theatre Season includes Lily Dale, by Horton Foote, Feb. 19 through 28; and Richard III, by William Shakespeare, Apr. 15 through 24.
Tickets may be purchased by calling (812) 488–2031, Monday through Friday, noon to 5 p.m.
UE Winter Housing
The residence halls will be closed for winter break from noon on December 17 to noon on January 8. Students participating in official University functions or other approved activities have the opportunity to apply for Winter Housing. Simply submit an Online Winter Request Form (hyper link this link https://www.surveymonkey.com/r/WinterHousing by noon on Reading & Study Day to be considered. For more information about Winter Housing, contact the office of residence life.
UNICEF Campus Initiative Club Is Looking for New Leaders!
The UNICEF Campus Initiative is looking for new leaders for their club. Executive Board positions are open and available to anyone, including Secretary, Chair of Fundraising, Chair of Event Planning and Co-chair of Membership Recruitment. There are no prerequisites; if you are interested please contact Chair of Member Recruitment, Marcela Pineda at mp226@evansville.edu. In order to be considered, an application will be required, as well as a Curriculum Vitae (Resume). Applications are due November 21st. It is a great opportunity to be part of a great cause!
Last Day to Drop with a W
Do you still need to drop a class this semester? If so, you have until this Friday November 13, at 5:00 p.m., to turn in your drop slip with all required signatures to the Registrar's Office. NO EXCEPTIONS.
Save Energy! See President Kazee in a Polar Bear Suit!
Take part in the Campus wide energy campaign on November 9-13. If we save enough energy then Dr. Kazee will appear on Friday, November 13, and make a speech in a polar bear costume. Turn off your lights around campus, and unplug all electronics while not in use.
Winter Intersession Financial Aid
If you are seeking financial aid to help pay for Winter Intersession courses at UE, please contact the Office of Financial Aid. We will help you examine your options for aid, which in most cases is limited to loans.
Can You Host a Student for Thanksgiving?
Do you have an empty chair at your Thanksgiving table? If so, would you be willing to host one or two UE students who are remaining on campus, for a Thanksgiving meal? If you would be willing to donate your hospitality, please contact Michelle Hahn at dh196@evansville.edu or call her at ext. 2279. Once we have identified potential host families, then we will accept requests from students with hopes of making the matches by Friday, November 20.
Campus Preparations for the Higher Learning Commission Visit
The University of Evansville will host a visit February 29 - March 2, 2016, with a team representing its regional accrediting agency, the Higher Learning Commission (HLC).
A leadership team of faculty and administrators has been assembled to prepare for the visit. Click here to view a list of leadership team members and to learn more about the process.
November 11 Veterans Day - No U.S.P.S Delivery
The United States Postal Service (U.S.P.S.) will be closed on Veteran's Day, Wednesday, November 11. Please note UE Mail Services will not be picking up mail from U.S.P.S. on Veteran's Day, since the post office will be completely closed. Any mail picked up from UE areas by Mail Services on Wednesday, November 11, will be metered and mailed on the afternoon of Thursday, November 12. For mail related questions, please contact Mail Services at extension 2197 or mailservices@evansville.edu.
Daya Devanathan Publishes Paper
Daya Devanathan published her paper titled "Effects of Anodal tDCS of the Lower Limb M1 on Ankle Reaction Time of Young Adults". Sangeetha Madhavan, PT, PhD, was her research mentor and the second author of the paper. Devanathan. B.S., M.S., is a first-year physical therapist assistant student and graduate of Indiana University in psychology / biology and the University of Illinois at Chicago in rehabilitation sciences. Congratulations, Daya!"
Birth Announcement - Rachel Immanuel
Suresh Immanuel Selvaraj, associate professor of civil engineering from the College of Engineering and Computer Science, and his wife Jean Immanuel, along with their son Matthew Immanuel, welcomed a new baby girl Rachel to their family on November 3. Both mom and baby are doing well.
Great News from UNICEF Campus Initiative Club!
The UNICEF Campus Initiative at UE would like to share some great news, everyone!
The organization raised 556.54$ from Trick-or-Treat for UNICEF event! The organization is more than THANKFUL to everyone who was part of this initiative!
This money can provide meals for 111 malnourished children for a week, clean water for 556 children for 40 days, 15,400 vaccines to vulnerable children, protect 500 children from malaria, and install a water pump to serve a whole village!
Also the organization raised $87.79 for SYRIA, this money goes directly to the Syrian kids providing nutrition, water and medical supplies!!
Thank you, thank you, thank you! You are making a difference in the world!
UNICEF team
Whitney Biggs named MVC Scholar-Athlete of the
University of Evansville junior Whitney Biggs has been named this week's Missouri Valley Conference Scholar-Athlete of the Week. Biggs was the Most Valuable Player of the 2015 MVC Women's Soccer Championship as she led the Purple Aces to their first conference championship since 2008.
Biggs earned a shutout in Evansville's 1-0 win over UNI in the semifinals, making a huge save in the win. She upped the ante in Sunday's championship game, making three saves in blanking Loyola in double overtime. Her biggest moment came in penalty kicks as her save keyed the Aces winning by a 5-3 margin and sent them to the NCAA Tournament. Even more impressive is her academic performance as the junior stands with a 4.0 GPA in Exercise Science.
To qualify for Missouri Valley Conference Scholar-Athlete of the Week laurels, student-athletes must carry a cumulative grade-point average of 3.20, completed at least one academic year at a Valley institution and must be at least a sophomore in academic standing.
Redshirt freshmen and first-year junior college transfers are not eligible. In addition to the academic qualifications, student-athletes will be evaluated on their athletic performance for a one-week period.
- INFO: For all of the latest information on University of Evansville women's soccer, log on to the sport page on GoPurpleAces.com or follow the program on Twitter via @UEAthleticsWSOC.
- DONATE: For information on giving to UE Athletics or its individual athletics programs, visit the DONATE tab on the top of GoPurpleAces.com.

Contribute to AceNotes
To have content considered for inclusion in AceNotes, please submit a Marketing Request Form. Deadline for submission to AceNotes is 10:00 a.m. on the requested date of publication. Only articles concerning UE related/sponsored activities will be accepted. Articles submitted to AceNotes may be edited for length and clarity. Submitter contact information is at the end of each article.