| | |
| --- | --- |
| AceNotes Today | Wednesday, October 14, 2015 |
REMINDER Earthquake Drill - Thursday, October 15
On Thursday, October 15, at 10:15 a.m., the University will conduct an earthquake drill. The campus community will be notified of the beginning of the drill through our AceAlert Emergency Notification System. A second AceAlert notification will be send to the campus community advising the campus community when the drill has been completed. We encourage everyone to take an active part in this drill. Upon notification, the following steps should be taken:
• Go to the safest location in your building/room
• Drop to the floor or ground (before the earthquake drops you!)
• Cover your head and neck with your arms and seek additional shelter by getting under a sturdy desk or table if nearby; and
• Hold on to your shelter and be prepared to move with it until the shaking stops.
• Stay away from bookshelves, windows, etc.
• Remain in position for at least 60 seconds during the drill.
In a real earthquake, after the shaking has stopped, all members of the campus community are required to report to the designated assembly points:
• If you are south of the Memorial Plaza fountain: South end of the Sesquicentennial Oval, away from trees
• If you are north of the Memorial Plaza fountain: Black Beauty soccer field at Arad McCutchan Stadium
NOTE: WE WILL NOT EVACUATE BUILDINGS DURING THE DRILL

Katie Darby Mullins to Speak at Coffee Hour on October 14
Everyone is welcome to attend the Wednesday, October 14th Creative Writing Department Coffee Hour event at 4 p.m. in the Melvin Peterson Gallery. Katie Darby Mullins, our new assistant professor of creative writing, will be reading from her work. In addition to being nominated for a Pushcart Prize and editing a rock 'n' roll crossover edition of the metrical poetry journal Measure, she's been published or has work forthcoming in journals like Hawaii Pacific Review, Harpur Palate, Broad River Review, Big Lucks, and The Evansville Review.
She was a semifinalist in the Ropewalk Press Fiction Chapbook competition and in the Casey Shay Press poetry chapbook competition. She's also the lead writer and founder of the music blog Katie Darby Recommends.
Catholic Mass Tonight at Neu Chapel!
All are welcome to join us at 9:30 p.m. tonight in Neu Chapel for UE Newman Club's short weekday Mass. Fr. Christopher Droste from Annunciation Parish will be our celebrant and will be available for confessions beginning at 9:00 p.m.
Please call/text Kristel at 812-760-8610 for more information!

Newman Club Seminarians Present "Freshman 5" Tonight
Interested in finding out what you can do to help keep your faith alive here on campus? Please come join Ambrose and Tam, our St. Meinrad seminarians, for their evening discussion, "Freshman 5," from 5:00 p.m. to 5:45 p.m. at the Newman Center! Dinner will be provided. We hope to see you there!
Please call/text Kristel at (812)760-8610 for more information!

Writing Center Boot Camp: Academic Writing for International Students Part 1
How do you know when to use "a," "an," or "the"? What about run-on sentences? Do prepositions make you crazy? Are your sentences choppy? This workshop will provide the basics of English grammar conventions for those who are unfamiliar with them (and a tune-up for those who are a little rusty). We will cover sentence structure, spelling and capitalization, punctuation and smooth writing style, presenting some strategies for helping you create effective academic papers in English. Join us this Wednesday, October 14, at 5 p.m.in the Writing Center for this useful workshop.
Health Careers Fair next Tuesday
Nearly 50 employers are registered for Health Careers Fair 2015. Come to the Student Fitness Center next Tuesday, October 20, from 11:00 am to 2:00 pm to meet employers who are interested in you! All students, freshmen through seniors, who are considering a health-related career should attend. See registered employers in JobLink (https://evansville-csm.symplicity.com/). Also, pre-register for the event in JobLink to allow employers to view your resume early!
Register Today for the Red Cross Blood Drive Sponsored by UE Newman Club!
Did you know that someone in the U.S. needs blood every two seconds? Come help a worthy cause and sign up today to give blood at the upcoming Red Cross Blood Drive sponsored by the UE Newman Club! The drive will be held on Tuesday, October 20, from noon-6:00 p.m. in the Carson Center's Small Gym.
To register, please stop by the Newman Club's Ridgway tables Wednesday through Friday during lunch and dinner hours, or visit http://www.redcrossblood.org/ and enter: Newman Club to schedule an appointment.
Unable to donate blood but looking to volunteer in another way? Please contact Nicolette Fonseca at nf39 for more information!
Celebrate Gregory Gregory Today
All Harlaxton former students and faculty are invited to join the Harlaxton Society in celebrating Gregory Gregory this Thursday, October 15, between 7:00 and 9:00 p.m. at Ri Ra Irish Pub. Register online to let us know you will attend at www.uealumnionline.com/ggevansville2015. Questions? Contact alumni@evansville.edu or extension 2586.
Office Staff Association to Host Old North Fair Trade Market
The University of Evansville Office Staff Association will again host the Old North Fair Trade Market on campus this year. The Fair Trade Market is a global mission of Old North United Methodist Church, and they celebrate Fair Trade Month in October each year. Part of the celebration is giving back to the community by donating 25% of pre-tax sales to organizations in the Evansville area who support Fair Trade by shopping at the Fair Trade Market. Because the Office Staff Association fundraising goes to student scholarships at UE, all campus sales that day will qualify for the 25% donation to the UE OSA.
The Fair Trade Market will be set up in the ground floor atrium of the Schroeder School of Business Building from 11:00 a.m. until 2:00 p.m. on Wednesday, October 14.
Be sure to encourage all your co-workers to stop by to look at the large selection of wonderful and unique items from all over the world. Purchases made that day not only further the cause of Fair Trade around the world, but helps our own UE students through OSA scholarships. Please note that the Old North Fair Trade Market accepts cash or personal checks only.
December Graduates Take Note
December graduates are reminded to attend Commencement Central on Thursday, October 15, from 11:00 a.m. -2:00 p.m. The event will be held outside the UE Bookstore in Ridgway University Center. Complete all your graduation plans by meeting with Career Services, the Alumni Office and Registrar Office in one easy stop. You can also purchase your cap and gown and order graduation announcements if desired. The Jostens Ring representative will also be present for you to view their selections. Please mark your calendar and plan on attending
Jostens Class Ring Sale
The Jostens representative will be at the UE Bookstore on Thursday, October 15 from 11:00 a.m. - 2:00 p.m. for anyone interested in purchasing a class ring. The rep will have samples of rings and will provide you with all the options that are available. There will also some special pricing on some rings. Stop by and browse, there's no obligation to purchase.
Faculty Regalia Sale
Faculty looking to purchase their own regalia are reminded that the Oak Hall representative will be at the UE Bookstore on Thursday, October 15 from 11:00 a.m. - 2:00 p.m. All orders placed on this day will receive 20% off the regular price. The rep will have samples of fabrics and pricing available for all your needs. The rep can also take accurate measurements for the garments you want. If you're thinking about purchasing, this is the event to check out.
Harlaxton Professor Edward Bujak to speak at UE: All are Welcome!
Don't miss the following opportunities on Thursday, October 15, to see Harlaxton professor Edward Bujak. Book signing in the UE Bookstore - 2:30 p.m., Lecture - "Harlaxton's First Global Citizens: The Officers and Gentlemen of the Royal Flying Corps" Vectren Lecture Hall of Koch Center - 4 p.m., Lecture "Life in the Grand Manor: 150 Years of Study Abroad" - 6 p.m., and Gregory Gregory Day at Ri Ra Irish Pub - 7 - 9 p.m.
Register today for Indiana Means Business Career Fair
Don't forget to register for Indiana Means Business Career Fair.
Register through UE JobLink (Jobs tab --> search for posting 901450
Bus transportation provided from UE. Contact Career Development to reserve your seat.
Need assistance with your job, internship, co-op or graduate school search? Please contact the Center for Career Development: career@evansville.edu or 812-488-1083.

Federal Loan Repayment Counseling Session Required for December Graduates
Students who have received Federal Direct Loans and plan to graduate in December are required to attend a Loan Repayment Counseling Session. The Office of Financial Aid will hold the first session of the semester on Thursday, October15 from 2:00-2:30 p.m. in Eykamp 251, Ridgway University Center. One other session will be held on Wednesday, December 9 (Reading/Study Day) from 2:00-2:30 p.m. in Eykamp 251. Please plan to attend one of these sessions.
Spring Housing Cancellation Deadline
Students, the deadline to cancel your UE housing contract for the spring semester is November 1. Stop by the office of residence life to cancel your housing contract without penalty for the Spring Semester if you will be:
Attending Harlaxton or Studying Abroad
Having an internship, co-op, or clinical outside of the Evansville area
Moving into a fraternity house
Transferring, withdrawing, or graduating
Requests not falling in the above categories are typically not granted. Requests to move off campus to live with friends or move into an apartment are not sufficient reasons to cancel a UE housing contract. Entering into any other housing agreement or lease with a private landlord will have no effect upon the conditions of your contract with the University of Evansville.
For more information, contact the residence life staff or visit our website at http://www.evansville.edu/residencelife/cancellationsAndRefunds2.cfm

Don't Miss Out on your Yearbook Graduate Portrait
Time is running out to make your 2016 yearbook graduate portrait appointment. Call (812) 488–2846 or visit Student Publication today through Friday to schedule your time. You can also schedule your time by stopping by the yearbook table from 11 a.m. to 1 p.m. Thursday, Oct. 15 and Friday, Oct. 16 in Ridgway University Center lobby. Have questions? Call Student Publications at (812) 488–2846.
RA Applications for Spring 2016 Available
Applications for becoming a Resident Assistant for the spring 2016 semester are now available up in Residence Life! Please stop by our office on the second floor of Ridgway University Center to pick up an application!
Make a Difference Day Volunteers Needed
It is fall and that means it is time for Make a Difference Day, an annual day of service which UE participates. The day is Saturday, October 24. To sign up for the event either as an individual or as a team, go to: http://volunteer.sinc-evansville.org/aam/corp/?key=1a4bc357efa39997e9902398ac6d9a66.
We ask that you sign up by Oct. 19 at noon in order to guarantee a t-shirt for the event. You can sign up afterwards but no guarantee will be made to receive a shirt. There are over 250 volunteers needed for this event so please be generous with your time.
If you are unable to volunteer or would like to make a donation, one of our projects benefits Community One, a local home restoration company. Our project requires $300 to complete. Those donations can be made at https://www.community1.org/project/633
Drop In Resume Reviews!
Is your resume in need of an update before the Health Careers Fair on Tuesday? No time to wait for an appointment? No problem! The Career Advocates will be available in the Center for Career Development on Monday, October 19 from 9:00 a.m. to 5:00 p.m. No appointment necessary, just drop in for a 15 minute review!
New Campus Wide Service Opportunity!
LEAD Forward, a new group sponsored by the School of Business, is partnering with Uncharted International to help fight the horrors of human trafficking in Myanmar. We are holding a drive for a variety of goods they need and are reaching out to everyone on campus to help donate and make a difference in the lives of these children!
Some of these goods include: toiletries, new flip-flops, hats, new/gently worn clothing, volleyballs/soccer balls, vitamins and Tylenol/Ibuprofen. Collection will occur every Friday from 10:30 am - 1 pm in Ridgway University Center by the information desk, after Fall break until the end of October.
Interested or have questions? Contact Marks Cannon (mc281), Hassan Taki eddin (ht61), or Kerilynn Pitocco (kp158) for further information.

UE ESPN3 TV Production Game Day Staff Needed
Aces Athletics are seeking experienced and enthusiastic team members to produce ESPN3 volleyball and basketball events starting on October 10th. This would be a great opportunity for students to build experience. For more information, please email Amy Davidson at ad204@evansville.edu
Still need a Textbook?
The UE Bookstore is beginning the process of returning unsold books from the Fall term. If you still need a textbook stop by the Bookstore as soon as possible. If you still need a book but don't have the funds to purchase talk to store staff and we'd be happy to hold a copy for you so that it does not get returned.
Spring Adoptions
This is a reminder to all faculty that the UE Bookstore is now requesting Spring 2016 textbooks adoptions at this time. Please submit your adoptions at your earliest convenience. If you have questions please contact the Bookstore.
UE Discount to Chinese Acrobats at Victory Theatre on October 26th
The National Circus and Acrobats of the People's Republic of China is coming to the Victory Theatre on October 26 at 8:00 pm. They will perform "Peking Dreams" , which features many impressive circus and acrobatic acts such as hats' juggling, diving through the rings, bicycles, feet juggling with umbrellas, unicycles, adagio of four and grand martial arts and so on. The program also includes traditional circus acts like hula hoops, balance on high chairs, aerial silk, solo trapeze and rope tricks (lasso).
You can receive discounted tickets by entering offer code: ACES at http://www.ticketmaster.com/event/05004EEAE1F49D8E or mention ACES at the Ford Center Ticket Office.
Discounted tickets are either $17 or $25.
University of Michigan Releases Recording by Douglas Reed
The University of Michigan School of Music, Theatre, and Dance has released a recording by Douglas Reed, University Organist Emeritus/Professor of Music/Emeritus. William Albright Organ Works was recorded on the historic Frieze Memorial Organ built in 1928 by E.M. Skinner for Hill Auditorium, Ann Arbor. Administered by UM's Block M Records, the recording is available on iTunes at https://itun.es/us/rVNz-
One of the most important American composers of organ music after 1950, William Albright (1944-1998) was born in Indiana and taught at the University of Michigan (1970-1998). He had a strong association with the University of Evansville which commissioned two major keyboard compositions from him: Four Fancies for harpsichord (1978, with the support of the Mesker Trust) and Symphony for organ (1984, with the support of the Indiana Arts Commission and the National Endowment for the Arts).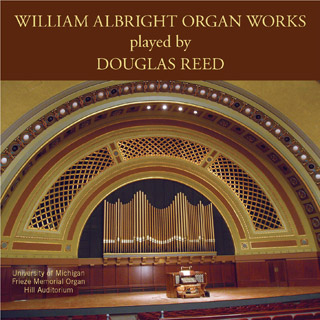 The recording project, begun in 2005 with major support from the Friends of UE Music, includes Albright's early organ works associated with the Frieze Memorial Organ: Juba (1965), Pneuma (1966), Organbook (1967) and Organbook II (1970-71). A later work, De Spiritum (1988), calling for assistant organists and percussionists, provided opportunities for University of Evansville music majors Zachary Guenzel, Michael Kuhr, and Timothy Weisman to participate in the project. UE's Francile MacDonald McGary portative organ, a gift of the McGary family of Newburgh, IN, was also used in the De Spiritum recording.
In addition to the FUEM grant, the project was supported by University of Michigan professors William Bolcom and Marilyn Mason; the University of Michigan School of Music, Theatre, and Dance; and the University of Evansville Department of Music.

UE Professor will be interviewed on Channel 44 Tonight
Yasser Alhenawi, assistant professor of finance, will be interviewed on Channel 44 TONIGHT - Wednesday Oct 14 - at 8:10 a.m. He will explain the content and scope of the Financial Preparedness program that the Institute for Banking of Finance administers in cooperation with St. Mary's Women Hospital.
Parkison's Manuscript Appears in "Curriculum and Teaching Dialogue"
Paul Parkison, chair of the School of Education, has a manuscript published in "Curriculum and Teaching Dialogue, volume 17 (2) entitled "Catharsis in Education: Rationalizing and Reconciling."
Examining education policy, specifically policy related to standards, testing and accountability, from a critical perspective reveals the dominance of the neoliberal perspective. The impacts of individual motivators on the educational system limit the democratic curriculum development process. "Feel good" moments for policy makers lead to stifling policies for teachers and students. Utilizing a qualitative discourse analysis, the rationalization of contemporary education policies is deconstructed.
Biology Professor publishes research linking hormones to diet and dispersal in females
Division 1 Assistant Professor of Biology Noah Gordon recently co-authored a study with Michelle Hellman (University of Nebraska) on the regulation of reproductive timing in female treefrogs. The paper, titled: "Dispersal Distance, Gonadal Steroid Levels and Body Condition in Gray Treefrogs (Hyla versicolor): Seasonal and Breeding Night Variation in Females," can be found in the Journal of Herpetology.
Gray rises on final day of Donald Ross Intercollegiate
Sophomore Tyler Gray shot the lowest round of the day for the University of Evansville men's golf team, firing a 1-under 69 to lead the Purple Aces to a tie for 6th place in the event.
Gray and senior Rick Voyvodic registered the top finishes for UE, tying for 12th place with scores of 213. Following a 72 in the opening round, Gray finished with scores of 72 and 69 to finish just three over par in the three rounds of play. His 69 was the lowest round of the tournament for Evansville.
Voyvodic also had a strong tournament. He opened up with a 70 before shooting rounds of 72 and 71 to also check in at three over par. Wil Pahud tied for 39th place with a final tally of 220. He improved in each round, carding a 75 to begin the event before following it up with rounds of 74 and 71.
Fourth on the squad was Will Knights. He finished the tournament with a 224, posting rounds of 75, 75 and 74. Freshman Joseph Addante round out the starting five with a 225. He had two stellar rounds, recording a 1-over 71 in the first and third rounds.
Individual Zac Turi tied Knights' score of 224. After setting his college low with a 70 in the first round, Turi notched scores of 74 and 80 in the final two rounds.
Jacksonville swept the team and individual awards. They took the team championship by one stroke over Gardner-Webb, finishing with a final score of 845. Appalachian State (850), Wingate (859) and Wofford (862) finished up the top five. Evansville tied Presbyterian for 6th place with an 863.
A 3-way tie ensued for the individual win. David Wicks and Franck Medale of Jacksonville along with Jeremy Grab from Wofford all finished with scores of 207, three under par.
UE will wrap up its fall slate next week at the Dayton Invitational. It will take place on Monday and Tuesday at NCR South Course in Kettering, Ohio.
- INFO: For all of the latest information on University of Evansville golf, log on to the sport page on GoPurpleAces.com or follow the program on Twitter via @UEAthletics.
- DONATE: For information on giving to UE Athletics or its individual athletics programs, visit the DONATE tab on the top of GoPurpleAces.com.
- TICKETS: To purchase tickets for University of Evansville athletics events, log on to GoPurpleAces.com and click on the TICKETS tab on top of the page.
Contribute to AceNotes
To have content considered for inclusion in AceNotes, please submit a Marketing Request Form. Deadline for submission to AceNotes is 10:00 a.m. on the requested date of publication. Only articles concerning UE related/sponsored activities will be accepted. Articles submitted to AceNotes may be edited for length and clarity. Submitter contact information is at the end of each article.