| | |
| --- | --- |
| AceNotes Today | Tuesday, October 13, 2015 |
Writing Center Boot Camp: Academic Writing for International Students Part 1
How do you know when to use "a," "an," or "the"? What about run-on sentences? Do prepositions make you crazy? Are your sentences choppy? This workshop will provide the basics of English grammar conventions for those who are unfamiliar with them (and a tune-up for those who are a little rusty). We will cover sentence structure, spelling and capitalization, punctuation and smooth writing style, presenting some strategies for helping you create effective academic papers in English. Join us this Wednesday, October 14, at 5 p.m.in the Writing Center for this useful workshop.
Stories of Resilience
UE students are invited to attend "Stories of Resilience," an evening featuring Shiza Shahid, co-founder and global ambassador of the Malala Fund, on Thursday, October 15. 7:00 p.m. at the Victory Theatre. Student prices are $10 plus a $1.50 handling fee. The evening will benefit Uncharted International and their efforts to educate the street children of Afghanistan. To purchase tickets on campus, contact Linda Wicker at lw74 or 488.1094. For more information, go to unchartedinternational.org/resilience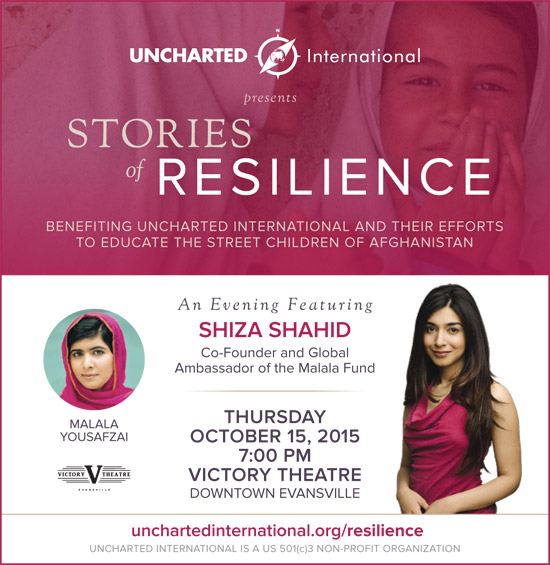 Celebrate Gregory Gregory Today
All Harlaxton former students and faculty are invited to join the Harlaxton Society in celebrating Gregory Gregory this Thursday, October 15, between 7:00 and 9:00 p.m. at Ri Ra Irish Pub. Register online to let us know you will attend at www.uealumnionline.com/ggevansville2015. Questions? Contact alumni@evansville.edu or extension 2586.
Office Staff Association to Host Old North Fair Trade Market
The University of Evansville Office Staff Association will again host the Old North Fair Trade Market on campus this year. The Fair Trade Market is a global mission of Old North United Methodist Church, and they celebrate Fair Trade Month in October each year. Part of the celebration is giving back to the community by donating 25% of pre-tax sales to organizations in the Evansville area who support Fair Trade by shopping at the Fair Trade Market. Because the Office Staff Association fundraising goes to student scholarships at UE, all campus sales that day will qualify for the 25% donation to the UE OSA.
The Fair Trade Market will be set up in the ground floor atrium of the Schroeder School of Business Building from 11:00 a.m. until 2:00 p.m. on Wednesday, October 14.
Be sure to encourage all your co-workers to stop by to look at the large selection of wonderful and unique items from all over the world. Purchases made that day not only further the cause of Fair Trade around the world, but helps our own UE students through OSA scholarships. Please note that the Old North Fair Trade Market accepts cash or personal checks only.
Jostens Class Ring Sale
The Jostens representative will be at the UE Bookstore on Thursday, October 15 from 11:00 a.m. - 2:00 p.m. for anyone interested in purchasing a class ring. The rep will have samples of rings and will provide you with all the options that are available. There will also some special pricing on some rings. Stop by and browse, there's no obligation to purchase.
Faculty Regalia Sale
Faculty looking to purchase their own regalia are reminded that the Oak Hall representative will be at the UE Bookstore on Thursday, October 15 from 11:00 a.m. - 2:00 p.m. All orders placed on this day will receive 20% off the regular price. The rep will have samples of fabrics and pricing available for all your needs. The rep can also take accurate measurements for the garments you want. If you're thinking about purchasing, this is the event to check out.
Harlaxton Professor Edward Bujak to speak at UE: All are Welcome!
Don't miss the following opportunities on Thursday, October 15, to see Harlaxton professor Edward Bujak. Book signing in the UE Bookstore - 2:30 p.m., Lecture - "Harlaxton's First Global Citizens: The Officers and Gentlemen of the Royal Flying Corps" Vectren Lecture Hall of Koch Center - 4 p.m., Lecture "Life in the Grand Manor: 150 Years of Study Abroad" - 6 p.m., and Gregory Gregory Day at Ri Ra Irish Pub - 7 - 9 p.m.
Register today for Indiana Means Business Career Fair
Don't forget to register for Indiana Means Business Career Fair.
Register through UE JobLink (Jobs tab --> search for posting 901450
Bus transportation provided from UE. Contact Career Development to reserve your seat.
Need assistance with your job, internship, co-op or graduate school search? Please contact the Center for Career Development: career@evansville.edu or 812-488-1083.

Federal Loan Repayment Counseling Session Required for December Graduates
Students who have received Federal Direct Loans and plan to graduate in December are required to attend a Loan Repayment Counseling Session. The Office of Financial Aid will hold the first session of the semester on Thursday, October15 from 2:00-2:30 p.m. in Eykamp 251, Ridgway University Center. One other session will be held on Wednesday, December 9 (Reading/Study Day) from 2:00-2:30 p.m. in Eykamp 251. Please plan to attend one of these sessions.
Katie Darby Mullins to Speak at Coffee Hour on October 14
Everyone is welcome to attend the Wednesday, October 14th Creative Writing Department Coffee Hour event at 4 p.m. in the Melvin Peterson Gallery. Katie Darby Mullins, our new assistant professor of creative writing, will be reading from her work. In addition to being nominated for a Pushcart Prize and editing a rock 'n' roll crossover edition of the metrical poetry journal Measure, she's been published or has work forthcoming in journals like Hawaii Pacific Review, Harpur Palate, Broad River Review, Big Lucks, and The Evansville Review.
She was a semifinalist in the Ropewalk Press Fiction Chapbook competition and in the Casey Shay Press poetry chapbook competition. She's also the lead writer and founder of the music blog Katie Darby Recommends.
Daymond John at the Victory Theatre
The Office of Development and Alumni Relations is thrilled to announce the Fall 2015 Patricia H. Snyder Lecture Series speaker, presented in partnership with Junior Achievement of Southwestern Indiana: Shark Tank's Daymond John.
Daymond John is a co-star on ABC's Emmy Award winning reality business show Shark Tank and the founder and CEO of FUBU, a clothing company that has amassed more than 4 billion dollars in worldwide retail sales to date.
An Evening with Daymond John
Tuesday, October 20
7:00 p.m.
The Victory Theatre
No advanced registration or tickets required. Doors open at 6:00 p.m. Seating is first come, first served.

New Campus Wide Service Opportunity!
LEAD Forward, a new group sponsored by the School of Business, is partnering with Uncharted International to help fight the horrors of human trafficking in Myanmar. We are holding a drive for a variety of goods they need and are reaching out to everyone on campus to help donate and make a difference in the lives of these children!
Some of these goods include: toiletries, new flip-flops, hats, new/gently worn clothing, volleyballs/soccer balls, vitamins and Tylenol/Ibuprofen. Collection will occur every Friday from 10:30 am - 1 pm in Ridgway University Center by the information desk, after Fall break until the end of October.
Interested or have questions? Contact Marks Cannon (mc281), Hassan Taki eddin (ht61), or Kerilynn Pitocco (kp158) for further information.

UE ESPN3 TV Production Game Day Staff Needed
Aces Athletics are seeking experienced and enthusiastic team members to produce ESPN3 volleyball and basketball events starting on October 10th. This would be a great opportunity for students to build experience. For more information, please email Amy Davidson at ad204@evansville.edu
Still need a Textbook?
The UE Bookstore is beginning the process of returning unsold books from the Fall term. If you still need a textbook stop by the Bookstore as soon as possible. If you still need a book but don't have the funds to purchase talk to store staff and we'd be happy to hold a copy for you so that it does not get returned.
Spring Adoptions
This is a reminder to all faculty that the UE Bookstore is now requesting Spring 2016 textbooks adoptions at this time. Please submit your adoptions at your earliest convenience. If you have questions please contact the Bookstore.
Parkison's Manuscript Appears in "Curriculum and Teaching Dialogue"
Paul Parkison, chair of the School of Education, has a manuscript published in "Curriculum and Teaching Dialogue, volume 17 (2) entitled "Catharsis in Education: Rationalizing and Reconciling."
Examining education policy, specifically policy related to standards, testing and accountability, from a critical perspective reveals the dominance of the neoliberal perspective. The impacts of individual motivators on the educational system limit the democratic curriculum development process. "Feel good" moments for policy makers lead to stifling policies for teachers and students. Utilizing a qualitative discourse analysis, the rationalization of contemporary education policies is deconstructed.
Pi Gamma Mu Welcomes New Members
The Indiana Alpha chapter of Pi Gamma Mu, international honor society in social sciences, welcomed 12 new members at their Induction Ceremony on October 8. This year's induction class has the highest average overall GPA since the chapter was reactivated in 2011. The newly inducted members are: Alexandra Amick, Kelley Auffart, Neil Brookhouse, Wyatt Brunk, Audrey Hensley, Logan Johnson, Ashley Manka, Megan Owens, Timothy Smith, Emily Stewart, Chelsea Wheat, and Cari Wilson.

Four UE softball players earn NFCA All-Academic Honors
The National Fastpitch Coaches Association (NFCA) announced that 5,493 softball players across seven membership divisions earned NFCA All-America Scholar-Athlete honors for the 2014-15 academic year.
Amongst the honorees are four University of Evansville players. Mariah Ferguson, Samantha Fleming, Mickaela Fleming and Morgan Lambert were the honorees from UE.
"I am extremely proud of what these four ladies were able to accomplish in the classroom," UE head coach Mat Mundell said. "High academics are what Evansville is all about. We were on the road a lot last season so to me that makes this even more special".
NCAA Division I, with 1,554 honorees, had the most student-athletes with a 3.5 grade-point average or higher, while 1,018 in Division III earned recognition, followed by 833 Division II student-athletes. High School weighted and High School unweighted posted 691 and 627 honorees apiece. NAIA amassed 410 recipients and Junior College totaled 360.
Nine MVC schools had a total of 66 individuals earning NFCA All-America Scholar-Athlete awards. Southern Illinois had the most of an MVC team with 11 while Wichita State had ten on the list and Missouri State with nine.
All-America Scholar Athletes - UE Individuals
Mariah Ferguson, UE
Samantha Fleming, UE
Mickaela Fleming, UE
Morgan Lambert, UE
- INFO: For all of the latest information on University of Evansville softball, log on to the sport page on GoPurpleAces.com or follow the program on Twitter via @UEAthletics_SB.
- DONATE: For information on giving to UE Athletics or its individual athletics programs, visit the DONATE tab on the top of GoPurpleAces.com.
- TICKETS: To purchase tickets for University of Evansville athletics events, log on to GoPurpleAces.com and click on the TICKETS tab on top of the page.
Voyvodic leads UE men on day one in North Carolina
Senior Rick Voyvodic carded a 70 in the first round of the Donald Ross Intercollegiate to lead the University of Evansville men's golf team on the opening day in North Carolina.
Voyvodic stands in a tie for 9th place following his score in the first round at Mimosa Hills Golf and Country Club. He finished the day just one ahead of freshman Joseph Addante, who rec-orded a 71 and stands in a tie for 15th.
Tyler Gray posted a 72 on a crowded leaderboard and is tied for 24th place. Sitting in a tie for 45th are Will Knights and Wil Pahud, who each notched a 75. Equally impressive on the day was freshman Zac Turi, who had his best collegiate round, finishing with a 70 playing as an individual.
As a team, the Purple Aces are in sixth place with a 288. Jacksonville leads the way with a 272 and has a healthy lead of nine shots over Appalachian State, who is in second. Wingate is in third with a 285 while Gardner-Webb (286) and Wofford (287) round out the top five. Evansville is just one stroke outside of the top five, finishing the opening day with a 288.
David Wicks of Jacksonville had the top round of the day, recording a 64. He is one ahead of teammate Franck Medale, who notched a 65.
The Aces look to improve their standing in Tuesday's final round of play.
- INFO: For all of the latest information on University of Evansville golf, log on to the sport page on GoPurpleAces.com or follow the program on Twitter via @UEAthletics.
- DONATE: For information on giving to UE Athletics or its individual athletics programs, visit the DONATE tab on the top of GoPurpleAces.com.
- TICKETS: To purchase tickets for University of Evansville athletics events, log on to GoPurpleAces.com and click on the TICKETS tab on top of the page.
Contribute to AceNotes
To have content considered for inclusion in AceNotes, please submit a Marketing Request Form. Deadline for submission to AceNotes is 10:00 a.m. on the requested date of publication. Only articles concerning UE related/sponsored activities will be accepted. Articles submitted to AceNotes may be edited for length and clarity. Submitter contact information is at the end of each article.