| | |
| --- | --- |
| AceNotes Today | Friday, October 9, 2015 |
Nikolidakis to Give MFA Application Talk on October 9
Lisa Nikolidakis, assistant professor of creative writing, will give a talk on the often-confusing process of applying to MFA programs in creative writing on Friday, October 9, in Room 71 Schroeder School of Business Building, at 4 pm. There will be a 40-minute lecture covering what graduate school is like, how to find programs that suit you, writing personal statements, etiquette for requesting letters of recommendation, and putting your writing sample together. Even if you're not sure that the MFA is right for you, Creative Writing majors and minors are especially encouraged to attend.
86th Annual Meeting of the IASS Today
Today UE is hosting the 86th Annual Meeting of the Indiana Academy of Social Sciences. More than 160 faculty and students in the social sciences from universities in Indiana, Illinois, Kentucky, China, India, Iran, Malaysia, and South Africa are expected to attend. The Panel Sessions take place in the Schroeder School of Business Building until 5:00 pm. All UE students are welcome to attend the panels and/or undergraduate poster sessions. If you need additional information contact Young Kim at yk28.
Stories of Resilience
UE students are invited to attend "Stories of Resilience," an evening featuring Shiza Shahid, co-founder and global ambassador of the Malala Fund, on Thursday, October 15. 7:00 p.m. at the Victory Theatre. Student prices are $10 plus a $1.50 handling fee. The evening will benefit Uncharted International and their efforts to educate the street children of Afghanistan. To purchase tickets on campus, contact Linda Wicker at lw74 or 488.1094. For more information, go to unchartedinternational.org/resilience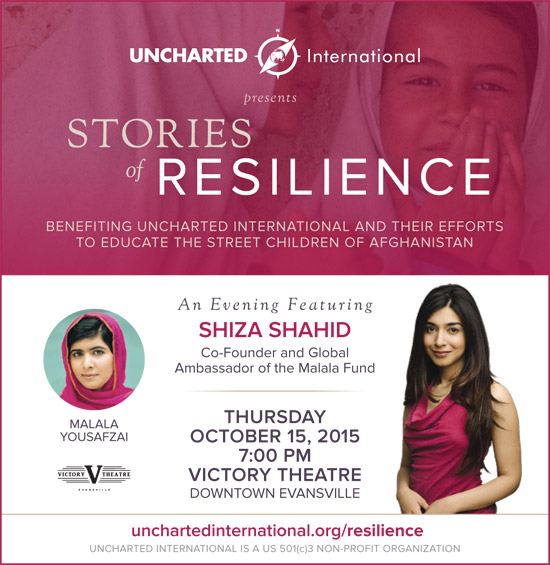 TIAA-CREF Counseling Appointments
The TIAA-CREF representative will be on the UE campus on Tuesday, October 20, for individual counseling sessions. To schedule an appointment, call TIAA-CREF at 1-800-732-8353 or 317-706-6200. The sessions are held in the Clifford Rare Books Room of the University Libraries (room 158). If you have any questions, call Carol McCraney at 488-2943.
Speaker Series Luncheon/Lunch and Lead
Please join us for the first Speaker Series Luncheon, in conjunction with the Lunch and Lead Series, on Thursday, October 15, 12:15-1:15 p.m. in Eykamp 253, Ridgway University Center. The speaker will be Karen Katz, '01, CEO Phi Delta Epsilon Medical Fraternity. Her topic: Don't Be a Minion: Using your passion and leadership experience to design a rewarding career." Lunch will be provided with an RSVP no later than noon on the Monday prior to the luncheon. RSVP to ds120@evansville.edu
2000 Step Challenge
The 2000 Stair Challenge hosted by the PTA Class of 2017 is planned for October 12-25. Teams of two can sign-up to participate in the challenge in Ridgway University Center on October 7-9 from 1:00 - 4:00 p.m. Each team must have a sponsor. The participation fee is $10. All are welcome to participate. Get a chance to win prizes!!
This event is part of Physical Therapy Month (October) The purpose is to promote movement and raise enough funds to host a Scorebuilders two-day on-campus PTA review course that will be free of charge for all UE PTA Class of 2017 students
December Graduates Take Note
December graduates are reminded to attend Commencement Central on Thursday, October 15, from 11:00 a.m. -2:00 p.m. The event will be held outside the UE Bookstore in Ridgway University Center. Complete all your graduation plans by meeting with Career Services, the Alumni Office and Registrar Office in one easy stop. You can also purchase your cap and gown and order graduation announcements if desired. The Jostens Ring representative will also be present for you to view their selections. Please mark your calendar and plan on attending
Katie Darby Mullins to Speak at Coffee Hour on October 14
Everyone is welcome to attend the Wednesday, October 14th Creative Writing Department Coffee Hour event at 4 p.m. in the Melvin Peterson Gallery. Katie Darby Mullins, our new assistant professor of creative writing, will be reading from her work. In addition to being nominated for a Pushcart Prize and editing a rock 'n' roll crossover edition of the metrical poetry journal Measure, she's been published or has work forthcoming in journals like Hawaii Pacific Review, Harpur Palate, Broad River Review, Big Lucks, and The Evansville Review.
She was a semifinalist in the Ropewalk Press Fiction Chapbook competition and in the Casey Shay Press poetry chapbook competition. She's also the lead writer and founder of the music blog Katie Darby Recommends.
New Campus Wide Service Opportunity!
LEAD Forward, a new group sponsored by the School of Business, is partnering with Uncharted International to help fight the horrors of human trafficking in Myanmar. We are holding a drive for a variety of goods they need and are reaching out to everyone on campus to help donate and make a difference in the lives of these children!
Some of these goods include: toiletries, new flip-flops, hats, new/gently worn clothing, volleyballs/soccer balls, vitamins and Tylenol/Ibuprofen. Collection will occur every Friday from 10:30 am - 1 pm in Ridgway University Center by the information desk, after Fall break until the end of October.
Interested or have questions? Contact Marks Cannon (mc281), Hassan Taki eddin (ht61), or Kerilynn Pitocco (kp158) for further information.

Still need a Textbook?
The UE Bookstore is beginning the process of returning unsold books from the Fall term. If you still need a textbook stop by the Bookstore as soon as possible. If you still need a book but don't have the funds to purchase talk to store staff and we'd be happy to hold a copy for you so that it does not get returned.
Last Week for Admissions Ambassadors Application
Just a reminder to anyone interested in becoming an Admissions Ambassador - the deadline to apply is Friday, October 9, at noon. Please be sure to have all components of your application, including recommendation, submitted by then. Also, mark on your calendars that interviews will be held October 14 through October 16. We look forward to reviewing your applications!
Fitness Center Fall Break Hours
The Fitness Center Fall Break hours are:
Friday, October 9: 6:30 am - 7:00 pm
Saturday, October 10 and Sunday, October 11: Closed

Monday, October 12 and Tuesday, October 13: .8:00 am - 7:00 pm
Open Swim hours Monday/Tuesday depending on guard availability
Got a Band? A Solo Act?
Do you have a musical talent? Do you perform? We would love for you to submit your act to us! We are part of the GAP initiative and we are throwing a mini concert on the East Terrace of Ridgway University Center on October 17, noon to 1:00 p.m. Prospective students, their families, and UE students will be in the audience. Please send an email with a link of you performing to hc85@evansville.edu, or email hc85@evansville.edu to set up a brief audition, and we will contact you!
Bookstore Fall Break Hours
The UE Bookstore will be closed on Saturday, October 10, due to Fall Break and will resume regular store hours on Monday and Tuesday, October 12 and 13.
USPS Closed on Monday, October 12, for Columbus Day
The United States Postal Service (U.S.P.S.) will be closed Columbus Day, Monday, October 12. Please note UE will not be able to pick up mail from U.S.P.S. on Monday, since the Post Office will be completely closed. Any mail picked up from UE areas by Mail Services on Monday, October 12, will be metered and mailed on the afternoon of Tuesday, October 13. For mail related questions, please contact Mail Services at extension 2197 or mailservices@evansville.edu.
Pi Gamma Mu Welcomes New Members
The Indiana Alpha chapter of Pi Gamma Mu, international honor society in social sciences, welcomed 12 new members at their Induction Ceremony on October 8. This year's induction class has the highest average overall GPA since the chapter was reactivated in 2011. The newly inducted members are: Alexandra Amick, Kelley Auffart, Neil Brookhouse, Wyatt Brunk, Audrey Hensley, Logan Johnson, Ashley Manka, Megan Owens, Timothy Smith, Emily Stewart, Chelsea Wheat, and Cari Wilson.

UE Team Wins First Place at (CCSC) Midwest Conference Student Programming Contest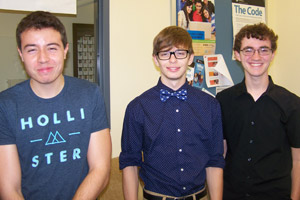 The University of Evansville team of Kane Catt, Evan Higgins, and Guilherme Andrade won first place at the Consortium for Computing Science (CCSC) Midwest Conference Student Programming Contest held Saturday, October 3 at UE. There was a total of 21 teams from around the Midwest region competing. The Evansville team solved 5 problems despite not submitting their first correct solution until almost 3 hours into the 4-hour contest. Second place went to Benedictine University who solved 4 problems, and third place went to Bradley University II who were the fastest to solve 3 problems.
Aces Volleyball wrap up home stand on Saturday
On Saturday, the University of Evansville volleyball team will complete a four-match home stands as the squad is set to face Southern Illinois at the Carson Center.
Evansville looks to improve upon its 1-4 mark in Valley play as it plays host to Southern Illinois on Saturday evening at 6 p.m. The Aces take to the road next weekend to face Illinois State and Indiana State.
It was deja vu all over again as the Purple Aces defeated Bradley by a 3-1 final last Saturday at the Carson Center. Down 24-19 in the fourth game, Evansville capped off the exciting victory by scoring the final seven points to clinch the match with a 26-24 win. In 2014, UE made a similar comeback against Bradley. Facing a 24-20 deficit in the third game, UE scored five in a row before eventually winning by a 40-38 final.
Genesis Miranda had the best conference match of her young career versus the Braves on Saturday evening. Miranda posted 25 kills while hitting .489 in the contest. The final kill tally was the most she has had against a conference opponent while her .489 finish was her most accurate performance in any match since beginning her career at Evansville. She remains among the top offensive players in the league, topping the list with 5.02 points per set while sitting in second place in service aces and kills.
Sophomore newcomer Jelena Merseli had the best night of her career in the victory over Bradley, setting career numbers across the board. The setter posted a career-best 39 assists while notching her UE high of 6 digs with the Aces. Her final career mark came as she notched an impressive seven kills in seven attempts, hitting a perfect 1.000. The setter took advantage of several opportunities to attack the Bradley defense and converted each of those chances.
The Salukis have a solid 12-6 overall mark and have been victorious in three of their first five conference matches. Their wins have come over Drake, Bradley and Missouri State while their losses have been at the hands of Loyola and UNI. Highlighting their non-conference efforts were wins over Dayton, Tulsa and Butler. Alex Rosignol enters Saturday's tilt as the top blocker in the Missouri Valley Conference with 1.42 per set. Taylor Pippen and Andrea Estrada pose two of the top offensive threats in the league. Pippen ranks fourth, hitting .394 on the season while Estrada is 4th in kills, tallying 3.32 per set.
Saturday will also mark Alumni Night for the team as they welcome several former players back to campus. They will be recognized on the court in between the second and third sets.
- INFO: For all of the latest information on University of Evansville volleyball, log on to the sport page on GoPurpleAces.com or follow the program on Twitter via @UEAthletics_VB.
- DONATE: For information on giving to UE Athletics or its individual athletics programs, visit the DONATE tab on the top of GoPurpleAces.com.
- TICKETS: To purchase tickets for University of Evansville athletics events, log on to GoPurpleAces.com and click on the TICKETS tab on top of the page.

Stephanie Cerino recaps summer experience with Titans
In the world of professional and collegiate sports, the additional experience that you can add to your resume on top of a great education may be the difference when applying for a job.
For volleyball senior Stephanie Cerino, she is well on her way to getting that degree in PT from the University of Evansville. Over the summer, she added to the other half of that – getting the experience of a lifetime and a foot in the door of a professional sports team. Not just any pro sports team – but the Tennessee Titans of the NFL.
"This was a great experience for me to work with the Titans," Cerino said. "I was able to spend numerous hours observing Todd Toriscelli (Director of Sports Medicine) to see what he did on a daily basis and the types of machinery that they used."
Cerino worked for the Titans in between their OTA's and training camp. She said that working in that time period was of great benefit to her due to it being a quiet time at the Titans facility.
"Being able to spend time there when it was not as busy was a huge benefit for me. Todd was able to spend time explaining things to me and showing me what to do in the case of different injuries," she said. "Having that one-on-one time with him was so beneficial to my work there."
The experience came about as the father of a fellow volleyball player she has known had a contact with the Titans. While their summer internships were filled, she was able to get in to do what is called observation hours with the training staff.
"Seeing how they used some of the technology they had was unbelievable, there were machines they had that I may never see again," she said. "I was able to learn so much."
Cerino is set to graduate in 2016 and already has plans to remain at UE for post graduate work in the field. While her career goals are sports related, she is open to numerous possibilities at this point.
"I obviously would like to remain in the sports field, but you never know how things will go," Cerino said. "Once I am done with grad school, I will definitely have a more focused direction. For now, this experience with the Titans and Todd gave me great wisdom and made a great connection that I can use in the future."
- INFO: For all of the latest information on University of Evansville volleyball, log on to the sport page on GoPurpleAces.com or follow the program on Twitter via @UEAthletics_VB.
- DONATE: For information on giving to UE Athletics or its individual athletics programs, visit the DONATE tab on the top of GoPurpleAces.com.
- TICKETS: To purchase tickets for University of Evansville athletics events, log on to GoPurpleAces.com and click on the TICKETS tab on top of the page.

Swimming and diving travels to Missouri State
With their opening weekend in the books, the University of Evansville swimming and diving teams head to Missouri State for a 4 p.m. meet today in Springfield.
"We are looking forward to continuing our season and competing against a great team," head coach Rickey Perkins said. "Our teams had a good start last weekend and we hope for more improvement this week. Missouri State is a great team and will be a good reference point for where we are at."
Friday's meet will be a short format and will be a change of pace from last weekend. In Saturday's opener versus Southern Illinois, the Aces had a format that featured all relays. Sunday's Butler Quad Meet was a long format.
Courtney Coverdale had a stellar weekend on the boards to open the season. She earned decisive victories in the 1 and 3 meter dives at the Butler Quad Meet. Michaela Kent also had a strong weekend, swimming a 54.39 in the 100 free to take second place.
On the men's side, Dan O'Brien was in the zone, teaming up with Kent, Troy Burger and Mackenzie Harris to take top honors in the mixed 200 medley relay against the Salukis. His team also earned a second in the 100 fly relay in the opener.
- INFO: For all of the latest information on University of Evansville swimming and diving, log on to the sport page on GoPurpleAces.com or follow the program on Twitter via @UEAthleticsSWIM.
- DONATE: For information on giving to UE Athletics or its individual athletics programs, visit the DONATE tab on the top of GoPurpleAces.com.
- TICKETS: To purchase tickets for University of Evansville athletics events, log on to GoPurpleAces.com and click on the TICKETS tab on top of the page.

UE Athletics Hosting Soccer Doubleheader on Saturday
The University of Evansville Athletics Department is hosting a soccer doubleheader on Saturday, Oct. 10. The men's soccer team returns to Missouri Valley Conference action with a 2:00 p.m. CDT kickoff against Bradley. The women's soccer team will hold Senior Day festivities then play Drake at 6:00 p.m. Both matches will be held at Arad McCutchan Stadium.
Contribute to AceNotes
To have content considered for inclusion in AceNotes, please submit a Marketing Request Form. Deadline for submission to AceNotes is 10:00 a.m. on the requested date of publication. Only articles concerning UE related/sponsored activities will be accepted. Articles submitted to AceNotes may be edited for length and clarity. Submitter contact information is at the end of each article.