| | |
| --- | --- |
| AceNotes Today | Thursday, October 8, 2015 |
Limited Parking Tomorrow Due to IASS Conference
Parking will be limited tomorrow due to the IASS Conference on campus. Lot A - the west side of Schroeder School of Business Building - will be closed in order to provide parking for conference participants. More than 150 people are expected to attend the conference, including representatives from universities across the United States and overseas. Thank you in advance for helping us make a good impression on our campus visitors. We apologize for any inconvenience!
86th Annual Meeting of the IASS Today
Today UE is hosting the 86th Annual Meeting of the Indiana Academy of Social Sciences. More than 160 faculty and students in the social sciences from universities in Indiana, Illinois, Kentucky, China, India, Iran, Malaysia, and South Africa are expected to attend. The Panel Sessions take place in the Schroeder School of Business Building until 5:00 pm. All UE students are welcome to attend the panels and/or undergraduate poster sessions. If you need additional information contact Young Kim at yk28.
TIAA-CREF Counseling Appointments
The TIAA-CREF representative will be on the UE campus on Tuesday, October 20, for individual counseling sessions. To schedule an appointment, call TIAA-CREF at 1-800-732-8353 or 317-706-6200. The sessions are held in the Clifford Rare Books Room of the University Libraries (room 158). If you have any questions, call Carol McCraney at 488-2943.
Speaker Series Luncheon/Lunch and Lead
Please join us for the first Speaker Series Luncheon, in conjunction with the Lunch and Lead Series, on Thursday, October 15, 12:15-1:15 p.m. in Eykamp 253, Ridgway University Center. The speaker will be Karen Katz, '01, CEO Phi Delta Epsilon Medical Fraternity. Her topic: Don't Be a Minion: Using your passion and leadership experience to design a rewarding career." Lunch will be provided with an RSVP no later than noon on the Monday prior to the luncheon. RSVP to ds120@evansville.edu
2000 Step Challenge
The 2000 Stair Challenge hosted by the PTA Class of 2017 is planned for October 12-25. Teams of two can sign-up to participate in the challenge in Ridgway University Center on October 7-9 from 1:00 - 4:00 p.m. Each team must have a sponsor. The participation fee is $10. All are welcome to participate. Get a chance to win prizes!!
This event is part of Physical Therapy Month (October) The purpose is to promote movement and raise enough funds to host a Scorebuilders two-day on-campus PTA review course that will be free of charge for all UE PTA Class of 2017 students
December Graduates Take Note
December graduates are reminded to attend Commencement Central on Thursday, October 15, from 11:00 a.m. -2:00 p.m. The event will be held outside the UE Bookstore in Ridgway University Center. Complete all your graduation plans by meeting with Career Services, the Alumni Office and Registrar Office in one easy stop. You can also purchase your cap and gown and order graduation announcements if desired. The Jostens Ring representative will also be present for you to view their selections. Please mark your calendar and plan on attending
Indiana Means Business Career Fair
Register via JobLink for the Indiana Means Business Career Fair - an exciting career fair for business-related disciplines!
The event is October 28, 10:00 a.m.—3:00 p.m. (Eastern) at the Indianapolis Downtown Marriott
Students in all class levels encouraged to attend.
Bus transportation provided from UE. Contact Career Development to reserve your seat.
Register for the fair through UE JobLink (Jobs tab --> search for posting 901450
Need assistance with your job, internship, co-op or graduate school search? Please contact the Center for Career Development: career@evansville.edu or 812-488-1083.

Nikolidakis to Give MFA Application Talk on October 9
Lisa Nikolidakis, assistant professor of creative writing, will give a talk on the often-confusing process of applying to MFA programs in creative writing on Friday, October 9, in Room 71 Schroeder School of Business Building, at 4 pm. There will be a 40-minute lecture covering what graduate school is like, how to find programs that suit you, writing personal statements, etiquette for requesting letters of recommendation, and putting your writing sample together. Even if you're not sure that the MFA is right for you, Creative Writing majors and minors are especially encouraged to attend.
Still need a Textbook?
The UE Bookstore is beginning the process of returning unsold books from the Fall term. If you still need a textbook stop by the Bookstore as soon as possible. If you still need a book but don't have the funds to purchase talk to store staff and we'd be happy to hold a copy for you so that it does not get returned.
Last Week for Admissions Ambassadors Application
Just a reminder to anyone interested in becoming an Admissions Ambassador - the deadline to apply is Friday, October 9, at noon. Please be sure to have all components of your application, including recommendation, submitted by then. Also, mark on your calendars that interviews will be held October 14 through October 16. We look forward to reviewing your applications!
Fitness Center Fall Break Hours
The Fitness Center Fall Break hours are:
Friday, October 9: 6:30 am - 7:00 pm
Saturday, October 10 and Sunday, October 11: Closed

Monday, October 12 and Tuesday, October 13: .8:00 am - 7:00 pm
Open Swim hours Monday/Tuesday depending on guard availability
Got a Band? A Solo Act?
Do you have a musical talent? Do you perform? We would love for you to submit your act to us! We are part of the GAP initiative and we are throwing a mini concert on the East Terrace of Ridgway University Center on October 17, noon to 1:00 p.m. Prospective students, their families, and UE students will be in the audience. Please send an email with a link of you performing to hc85@evansville.edu, or email hc85@evansville.edu to set up a brief audition, and we will contact you!
Bookstore Fall Break Hours
The UE Bookstore will be closed on Saturday, October 10, due to Fall Break and will resume regular store hours on Monday and Tuesday, October 12 and 13.
2016 LinC Graduate Portraits Appointments
If you plan to graduate in December 2015 or May 2016, stop by Student Publications, Ridgway University Center, second floor, or call 812.488.2846 to make your 2016 LinC graduate portrait appointment. Portraits are FREE!
Attention Commuters: "Mid-Term Move-In" Available
Are you spending too much time and gas driving from home to campus? Missing out on evening study groups and meetings? Missing out on fun?
Living on campus can be an enjoyable experience – but more than that, our research shows that students who live on campus tend to do better academically and be more satisfied with their UE experience. You can still move in to a residence hall right now or for spring semester. Students moving into a residence hall this fall will receive a pro-rated charge for their residence hall and associated meal plan for the remaining weeks of the fall semester.
Before you complete your housing and meal plan contracts, the Office of Student Accounts will assist you with setting up payment arrangements.
For more information about costs, contracts, and room availability, contact the Office of Residence Life at ext. 2956, or visit the office in the Student Life Center upstairs in Ridgway University Center.
UE Team Wins First Place at (CCSC) Midwest Conference Student Programming Contest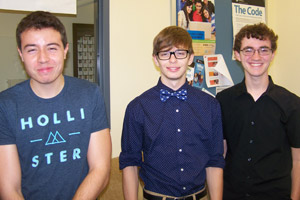 The University of Evansville team of Kane Catt, Evan Higgins, and Guilherme Andrade won first place at the Consortium for Computing Science (CCSC) Midwest Conference Student Programming Contest held Saturday, October 3 at UE. There was a total of 21 teams from around the Midwest region competing. The Evansville team solved 5 problems despite not submitting their first correct solution until almost 3 hours into the 4-hour contest. Second place went to Benedictine University who solved 4 problems, and third place went to Bradley University II who were the fastest to solve 3 problems.
Douglas Reed Performs at the University of Michigan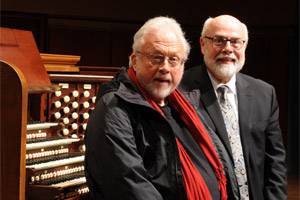 Douglas Reed, University Organist Emeritus/Professor of Music Emeritus, performed the opening concert of the 55th Annual Organ Conference at the University of Michigan on October 4, in Hill Auditorium. Titled "A Tribute to William Albright and William Bolcom," the program included works by both composers, members of the faculty of the UM School of Music, Theatre, and Dance for many years.
The concert included the Ann Arbor premieres of several unpublished Albright works (Carillon-Bombarde and Whistler (1834-1903): Three Nocturnes] and Reed's arrangements for solo organ of two sections from William Bolcom's A Song for St. Cecilia's Day (SATB/organ, 2008), based on poetry of John Dryden (1687) and written in memory of William Albright (1944-1998).
Reed performed on the historic Frieze Memorial Organ, built by E. M. Skinner in 1928. Incorporating pipe work from the Farrand & Votey Columbian Exposition organ (Chicago, 1893), the organ was revised by Aeolian-Skinner in 1955 and had a profound influence on several Albright and Bolcom organ compositions.

UE Athletics Hosting Soccer Doubleheader on Saturday
The University of Evansville Athletics Department is hosting a soccer doubleheader on Saturday, Oct. 10. The men's soccer team returns to Missouri Valley Conference action with a 2:00 p.m. CDT kickoff against Bradley. The women's soccer team will hold Senior Day festivities then play Drake at 6:00 p.m. Both matches will be held at Arad McCutchan Stadium.
Blaydes Scores First Career Goal in Road Loss at UK
The University of Evansville men's soccer team (2-8) was defeated 4-1 at #20 University of Kentucky (7-2-1) on Wednesday night. Playing just 20 minutes from his hometown of Midway, freshman forward Zac Blaydes netted his first career goal on a 72nd minute penalty kick. The Purple Aces are back at home on Saturday, Oct. 10 against Bradley.
"UK is coming off an NCAA appearance and are having a strong season," said Evansville head men's soccer coach Marshall Ray. "Against teams of this caliber, we have to be performing at our best for 90 minutes. Tonight, we did not and we paid the price for our mistakes…There are things to build on, but we must limit our mental errors heading into Saturday's Valley match against Bradley."
UK went ahead on a 25th minute goal from sophomore midfielder Kevin Barajas. Evansville was looking for the equalizer in the 31st minute but a shot from sophomore midfielder Ian McGrath sailed high.
Down 1-0, UE kept the deficit from growing larger in the 37th minute when sophomore defender Chris Shuck headed a ball off the endline. The Wildcats would push the lead to two with a 44th minute goal just prior to halftime.
Up by a pair of scores, Kentucky added goals in the 57th and 67th minutes for the 4-0 advantage. Blaydes recorded his first goal just minutes later. It was the first penalty kick for the Purple Aces this season.
Blaydes, McGrath and senior forward Nate Opperman all had a team-high two shots in the contest. Freshman goalkeeper Greg Niven made three saves.
The Aces host Bradley this Saturday at Arad McCutchan Stadium at 2:00 p.m. CDT. As part of the doubleheader, the UE women's soccer team will hold Senior Day festivities and play Drake at 6:00 p.m. CDT.
INFO: For all of the latest information on University of Evansville athletics, log on to the sport page on GoPurpleAces.com or follow the program on Twitter via @UEAthletics.
DONATE: For information on giving to UE Athletics or its individual athletics programs, visit the DONATE tab on the top of GoPurpleAces.com.
TICKETS: To purchase tickets for University of Evansville athletics events, log on to GoPurpleAces.com and click on the TICKETS tab on top of the page.

Contribute to AceNotes
To have content considered for inclusion in AceNotes, please submit a Marketing Request Form. Deadline for submission to AceNotes is 10:00 a.m. on the requested date of publication. Only articles concerning UE related/sponsored activities will be accepted. Articles submitted to AceNotes may be edited for length and clarity. Submitter contact information is at the end of each article.