| | |
| --- | --- |
| AceNotes Today | Wednesday, October 7, 2015 |
Newman Club Seminarians Present "Freshman 5" Tonight
Interested in finding out what you can do to help keep your faith alive here on campus? Please come join Ambrose and Tam, our St. Meinrad seminarians, for their evening discussion, "Freshman 5," from 5:00 p.m. to 5:45 p.m. at the Newman Center! Dinner will be provided. We hope to see you there!
Please call/text Kristel at (812)760-8610 for more information!

Catholic Mass Tonight at Neu Chapel! All Are Welcome!
All are welcome to join us at 9:30 p.m. tonight in Neu Chapel for UE Newman Club's short weekday Mass. Fr. Christian Raab from St. Meinrad Archabbey will be our celebrant and will be available for confessions beginning at 9:00 p.m.
Please call/text Kristel at 812-760-8610 for more information!

Writing Center Bootcamp: Don't Argue With Me!
But yes, you can learn to argue effectively in your academic papers. Join us this Wednesday, October 7, at 5:00 p.m. in the Writing Center for a workshop on how to build an argument by using an approach for coming up with ideas, relating them to the thesis, and organizing them logically.
Lunch and Lead on Wednesday on October 7
Meet, eat and discover leadership at Lunch and Lead!
We invite you to our session on Wednesday, October 7, from 12:00 pm-1:00 pm on the topic of challenges and changes to 21st century education with Associate Professor in School of Education George Iber. Bring your lunch and meet us in Eykamp 253-255, Ridgway University Center. Lunch and Lead is a Ted Talk style presentation and discussion session. All members of the UE community are welcome.
For a full schedule and more details visit: https://www.evansville.edu/studentengagement/leadershipLunchAndLead.cfm
86th Annual Meeting of the IASS Today
Today UE is hosting the 86th Annual Meeting of the Indiana Academy of Social Sciences. More than 160 faculty and students in the social sciences from universities in Indiana, Illinois, Kentucky, China, India, Iran, Malaysia, and South Africa are expected to attend. The Panel Sessions take place in the Schroeder School of Business Building until 5:00 pm. All UE students are welcome to attend the panels and/or undergraduate poster sessions. If you need additional information contact Young Kim at yk28.
TIAA-CREF Counseling Appointments
The TIAA-CREF representative will be on the UE campus on Tuesday, October 20, for individual counseling sessions. To schedule an appointment, call TIAA-CREF at 1-800-732-8353 or 317-706-6200. The sessions are held in the Clifford Rare Books Room of the University Libraries (room 158). If you have any questions, call Carol McCraney at 488-2943.
Speaker Series Luncheon/Lunch and Lead
Please join us for the first Speaker Series Luncheon, in conjunction with the Lunch and Lead Series, on Thursday, October 15, 12:15-1:15 p.m. in Eykamp 253, Ridgway University Center. The speaker will be Karen Katz, '01, CEO Phi Delta Epsilon Medical Fraternity. Her topic: Don't Be a Minion: Using your passion and leadership experience to design a rewarding career." Lunch will be provided with an RSVP no later than noon on the Monday prior to the luncheon. RSVP to ds120@evansville.edu
2000 Step Challenge
The 2000 Stair Challenge hosted by the PTA Class of 2017 is planned for October 12-25. Teams of two can sign-up to participate in the challenge in Ridgway University Center on October 7-9 from 1:00 - 4:00 p.m. Each team must have a sponsor. The participation fee is $10. All are welcome to participate. Get a chance to win prizes!!
This event is part of Physical Therapy Month (October) The purpose is to promote movement and raise enough funds to host a Scorebuilders two-day on-campus PTA review course that will be free of charge for all UE PTA Class of 2017 students
FREE trip to Indianapolis/Graduate School Info/Discounted Museum Tickets!
UE students are invited to join the Honors Program for a visit to Indianapolis, Indiana on Saturday, October 17. This trip will provide students with exposure to graduate school experts and UE alumni who have valuable advice on pursuing graduate studies. IUPUI's Graduate Studies Office will serve as host for our adventure which will include a complimentary luncheon. Following our visit to IUPUI, there will be time to explore the city. The first 40 students to RSVP will receive $10 toward the admission of a museum in downtown Indy. Transportation will be provided by chartered bus. Space is limited, so make your reservation now! Deadline for reservations is Friday, October 9 to Jayme Williams at jw504 or stop by KC 238. A $20 deposit is required and will be refunded on the bus.
Harlaxton Professor Edward Bujak to speak at UE: All are Welcome!
Don't miss the following opportunities on Thursday, October 15, to see Harlaxton professor Edward Bujak. Book signing in the UE Bookstore - 2:30 p.m., Lecture - "Harlaxton's First Global Citizens: The Officers and Gentlemen of the Royal Flying Corps" Vectren Lecture Hall of Koch Center - 4 p.m., Lecture "Life in the Grand Manor: 150 Years of Study Abroad" - 6 p.m., and Gregory Gregory Day at Ri Ra Irish Pub - 7 - 9 p.m.
"How to Make Your Business Dream a Reality"
Students are invited to attend a presentation and Q&A session by UE African-American Alumni entrepreneurs, titled "How to Make Your Business Dream a Reality," on Friday, October 16. The event is from 6:00 – 7:00 p.m., in Room 170 (Smythe Lecture Hall), Schroeder School of Business Building. The speakers will share resources, a sample business plan, stories and tips. All students interested in entrepreneurship are encouraged to attend this event.
Register online at www.uealumnionline.com/UEAAAEntrepreneurs15, or contact Angela Williams, assistant director of Alumni and Parent Relations, at aw162@evansville.edu or 812-488-2586.
Presenters include:
1. Al Baity '85, State Farm Insurance, owner and agent
2. Ed Lander '91 & Darin Lander '03, WEOA Radio Station, owner and general manager
3. Watez Phelps '01, M'04, SCORE
4. Jerome Stewart '04, Diversity Supply's Professional Procurement Services, owner
5. Denise Shane-Cheaney '01, Pink Elephant Celebrations, owner and Event planner
Light refreshments will be available.

Indiana Means Business Career Fair
Register via JobLink for the Indiana Means Business Career Fair - an exciting career fair for business-related disciplines!
The event is October 28, 10:00 a.m.—3:00 p.m. (Eastern) at the Indianapolis Downtown Marriott
Students in all class levels encouraged to attend.
Bus transportation provided from UE. Contact Career Development to reserve your seat.
Register for the fair through UE JobLink (Jobs tab --> search for posting 901450
Need assistance with your job, internship, co-op or graduate school search? Please contact the Center for Career Development: career@evansville.edu or 812-488-1083.

Katie Darby Mullins to Speak at Coffee Hour on October 14
Everyone is welcome to attend the Wednesday, October 14th Creative Writing Department Coffee Hour event at 4 p.m. in the Melvin Peterson Gallery. Katie Darby Mullins, our new assistant professor of creative writing, will be reading from her work. In addition to being nominated for a Pushcart Prize and editing a rock 'n' roll crossover edition of the metrical poetry journal Measure, she's been published or has work forthcoming in journals like Hawaii Pacific Review, Harpur Palate, Broad River Review, Big Lucks, and The Evansville Review.
She was a semifinalist in the Ropewalk Press Fiction Chapbook competition and in the Casey Shay Press poetry chapbook competition. She's also the lead writer and founder of the music blog Katie Darby Recommends.
Last Week for Admissions Ambassadors Application
Just a reminder to anyone interested in becoming an Admissions Ambassador - the deadline to apply is Friday, October 9, at noon. Please be sure to have all components of your application, including recommendation, submitted by then. Also, mark on your calendars that interviews will be held October 14 through October 16. We look forward to reviewing your applications!
Fitness Center Fall Break Hours
The Fitness Center Fall Break hours are:
Friday, October 9: 6:30 am - 7:00 pm
Saturday, October 10 and Sunday, October 11: Closed

Monday, October 12 and Tuesday, October 13: .8:00 am - 7:00 pm
Open Swim hours Monday/Tuesday depending on guard availability
Got a Band? A Solo Act?
Do you have a musical talent? Do you perform? We would love for you to submit your act to us! We are part of the GAP initiative and we are throwing a mini concert on the East Terrace of Ridgway University Center on October 17, noon to 1:00 p.m. Prospective students, their families, and UE students will be in the audience. Please send an email with a link of you performing to hc85@evansville.edu, or email hc85@evansville.edu to set up a brief audition, and we will contact you!
Bookstore Fall Break Hours
The UE Bookstore will be closed on Saturday, October 10, due to Fall Break and will resume regular store hours on Monday and Tuesday, October 12 and 13.
2016 LinC Graduate Portraits Appointments
If you plan to graduate in December 2015 or May 2016, stop by Student Publications, Ridgway University Center, second floor, or call 812.488.2846 to make your 2016 LinC graduate portrait appointment. Portraits are FREE!
Attention Commuters: "Mid-Term Move-In" Available
Are you spending too much time and gas driving from home to campus? Missing out on evening study groups and meetings? Missing out on fun?
Living on campus can be an enjoyable experience – but more than that, our research shows that students who live on campus tend to do better academically and be more satisfied with their UE experience. You can still move in to a residence hall right now or for spring semester. Students moving into a residence hall this fall will receive a pro-rated charge for their residence hall and associated meal plan for the remaining weeks of the fall semester.
Before you complete your housing and meal plan contracts, the Office of Student Accounts will assist you with setting up payment arrangements.
For more information about costs, contracts, and room availability, contact the Office of Residence Life at ext. 2956, or visit the office in the Student Life Center upstairs in Ridgway University Center.
Career Advocates Available to Students
The Center for Career Development is happy to announce that our career advocates are fully trained and ready to help students with resumes, interviews, cover letters, and more!
Abbi Hanson (ah327) – College of Arts and Sciences
Tiffany Huffman (th170) – College of Education and Health Sciences
Maggie Lawrence (ml170) – College of Arts and Sciences
Maisie Lee (ml160) – College of Education and Health Sciences
Each advocate was selected by the academic dean of their school and brings a diverse background to the group.
Advocates are available on a walk-in basis, but will also accept appointments by email. The advocates will be meeting with students in the Tapley Center, located in Graves Hall; in Koch Center, outside of KC 100; in the Student Life lobby, Ridgway University Center; and School of Business atrium.
Follow @UECareers on Twitter for daily updates on times and locations!
Douglas Reed Performs at the University of Michigan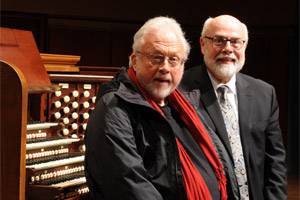 Douglas Reed, University Organist Emeritus/Professor of Music Emeritus, performed the opening concert of the 55th Annual Organ Conference at the University of Michigan on October 4, in Hill Auditorium. Titled "A Tribute to William Albright and William Bolcom," the program included works by both composers, members of the faculty of the UM School of Music, Theatre, and Dance for many years.
The concert included the Ann Arbor premieres of several unpublished Albright works (Carillon-Bombarde and Whistler (1834-1903): Three Nocturnes] and Reed's arrangements for solo organ of two sections from William Bolcom's A Song for St. Cecilia's Day (SATB/organ, 2008), based on poetry of John Dryden (1687) and written in memory of William Albright (1944-1998).
Reed performed on the historic Frieze Memorial Organ, built by E. M. Skinner in 1928. Incorporating pipe work from the Farrand & Votey Columbian Exposition organ (Chicago, 1893), the organ was revised by Aeolian-Skinner in 1955 and had a profound influence on several Albright and Bolcom organ compositions.

Robert Dion Interviewed About Pope Francis Visit
Robert Dion, chairperson of the Department of Law, Politics, and Society, was interviewed on Radio-Canada about the potential political implications of the visit of Pope Francis to the United States. The Sunday morning broadcast, "Desautels le dimanche," was aired nationally across Canada's Premiere Chaine, and the live interview of about six minutes was conducted entirely in French. As the campus gears up to celebrate Linguapalooza and the importance of learning foreign languages, it is good to remember that being able to communicate in another language can really come in handy -- even if one is a professor of American government.
UE golf teams wrap up Butler Fall Invitational
On the second and final day of the Butler Fall Invitational, Kayla Katterhenry and Tyler Gray finished atop the Purple Aces leaderboard at Highland Country Club.
Gray was Evansville's top finisher in the tournament, coming home in a tie for 14th overall. In Tuesday's final round of play, Gray equaled his round two score, which was an even 70. He finished the event with a 214.
Next up was the senior duo of Rick Voyvodic and Will Knights. Voyvodic led UE after the first day and notched another solid round on Tuesday, carding a 72. He finished with a final score of 215. Tying him was fellow senior Will Knights. Knights followed up his second-round total of 67 from Monday with an even 70 on Tuesday. He also completed the event tied for 17th.
Fourth for UE was Wil Pahud. He improved to finish in a tie for 22nd place with a final score of 218. His round on Tuesday finished at a 2-over 72. Noah Reese recorded his best round of the event in the third round, posting a score of 74. He finished in a tie for 35th with a 229.
Individuals Joseph Addante and Zac Turi wrapped up play on the final day. Addante posted a 74 to finish in a tie for 30th with a 224 while Turi was 41st with a final tally of 246.
Gehrig Hollatz of Butler held on for the individual championship, topping Rylan Porter of IUPUI by three strokes. Hollatz finished the tournament with a 203. On the team side, IUPUI took the win, finishing with an overall score of 839. They beat Indianapolis by 12 shots. Evansville took fifth place with an 859.
Katterhenry paced the women once again, tying for sixth place with a score of 148. After finishing the opening day with a 77, she was able to improve by six strokes on Tuesday, registering a 1-over 71 to finish with a 148. She finished just three off of the win. Lauren Tibbets of Butler and Keilich Katharina (UIndy) finished atop the individual standings.
Maria Pickens took second for the Aces. After leading UE on Monday, Pickens completed the second round with a score of 74 to finish alone in 10th place with a 150. Thrid on the squad was Giulia Mallmann. The sophomore tied for 17th after rounds of 78 and 77 saw her finish with a total of 155.
Next up on the team was Maggie Camp. She lowered her total from the opening day by seven strokes, carding an 80 to finish tied for 55th with a 167. Carly Waggoner was one behind Camp, totaling a 168. Madison Chaney tied for 39th as an individual. She jumped by one stroke from Monday's first round, notching an 80 to finish with a 161. Rachel Marchi also had a solid day, recording an 81 to finish in a tie for 45th.
UE finished in fifth place on the leaderboard, just two behind 4th place SIU Edwardsville. The University of Indianapolis took the top spot with a 592. They defeated IUPUI by 17 strokes.
The men are in action next Monday and Tuesday at the Donald Ross Intercollegiate. Mimosa Hills Country Club will play host to the event in Morganton, N.C. The women take next weekend off before returning to play in two weeks at the Dayton Invitational.
- INFO: For all of the latest information on University of Evansville golf, log on to the sport page on GoPurpleAces.com or follow the program on Twitter via @UEAthletics.
- DONATE: For information on giving to UE Athletics or its individual athletics programs, visit the DONATE tab on the top of GoPurpleAces.com.
- TICKETS: To purchase tickets for University of Evansville athletics events, log on to GoPurpleAces.com and click on the TICKETS tab on top of the page.

Contribute to AceNotes
To have content considered for inclusion in AceNotes, please submit a Marketing Request Form. Deadline for submission to AceNotes is 10:00 a.m. on the requested date of publication. Only articles concerning UE related/sponsored activities will be accepted. Articles submitted to AceNotes may be edited for length and clarity. Submitter contact information is at the end of each article.