| | |
| --- | --- |
| AceNotes Today | Friday, October 2, 2015 |
Donna Schmitt Receives October Employee of the Month Award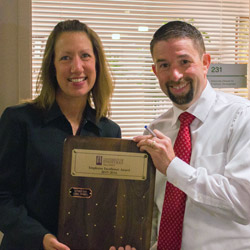 Donna Schmitt, senior administrative assistant in the Center for Career Development, has been named the October 2015 Employee of the Month. Donna joined the Center for Career Development in 2012 after working in the Office of Student Accounts since 2006.
Donna exemplifies servant leadership and consistently maintains a student-focused attitude. She is an exceptional representative of the Center for Career Development, Student Life, and UE overall. Those nominating Donna mentioned her grace and competence, as well as her calm and friendly demeanor, even at the most stressful times.
Congratulations, Donna, and thank you for all that you do!
Sympathy to Family and Friends of William F. Louden
It is with great sadness that we share news of the death of our friend and colleague, University Librarian Emeritus William F. Louden.
Bill Louden was a fixture of campus life at the University of Evansville for more than two decades. He was a native of New Castle, Pennsylvania, and was a loyal alumnus of Mount Union College in Alliance, Ohio, from which he graduated with a Bachelor of Arts degree in 1969. He was awarded the degree Master of Divinity from Duke University in 1973, and the following year he earned the degree Master of Library Science from the University of Pittsburgh. Prior to coming to the University of Evansville, Bill served as a professional librarian at Heidelberg College in Tiffin, Ohio, at Baylor University in Waco, Texas, and at the University of Cincinnati. In 1994 he joined the University of Evansville where he served as University Librarian for 21 years.
Bill was a great believer in the value of a liberal-arts based education: he was devoted to the UE Libraries, to the library staff, and to the library's many friends among the UE community. He held in special esteem the many students whose lives he touched through his years of teaching in our First Year Seminar program, and before that, the World Cultures sequence.
Bill had only just retired from the University Libraries in May of this year. He was preceded in death by his parents, Jean R. and William L. Louden of New Castle, Pennsylvania. In accordance with Bill's wishes, there will be no visitation or funeral service.
Friends wishing to make a gift to the UE Libraries in Bill's memory should contact Abigail Werling at (812) 488-2272 or by email at am275@evansville.edu.
This Weekend in Music: Vocal Health Workshop and Ron Jones Quartet in Concert
The Department of Music will host a Vocal Health Workshop in FA 110 this Saturday, October 3, from 8:30 a.m. until 12:00 p.m.
Leading the workshop will be Sharon R. Boyle (MM, MT-BC), associate professor of music therapy at St. Mary-0f-the-Woods., where she has been a member of the music faculty since 2002 and currently serves as the coordinator of the Undergraduate Music Therapy Program. She has served as state representative for Indiana on the Great Lakes Region Executive Board of the American Music Therapy Association and just completed a five-year commitment serving on the editorial board for the peer-reviewed journal, Music Therapy Perspectives.
She has extensive clinical experience working in both short-term and long-term care for nearly 20 years, and she has received several awards for leadership, teaching excellence, and scholarship. Boyle has music degrees from Linfield College and East Carolina University and completed post-graduate work in courses taught by Alan Turry, Barbara Hesser, and Lisa Summer. In addition, she has completed Level II Music and Imagery training under the supervision of Lisa Summer and Frances Goldberg through Anna Maria College. She regularly presents at state, regional, and national music therapy conferences on various topics, including vocal health and vocal improvisation for music therapists, self-care for music therapists, a unique intensive summer practicum model, and other issues in education and clinical training of music therapists.
The first concert of the season in the Jazz Guest Artist Concert Series, co-sponsored by the University of Evansville and the Evansville Jazz Society, will present saxophonist Ron Jones and his Quartet from Louisville, Kentucky, in Wheeler Concert Hall on Sunday afternoon, October 4 at 4:00 p.m.
The leader of the group, Ron Jones, is one of the most highly regarded saxophonists in the mid-west. From his home base in Louisville, Ron leads his quartet in concerts around the area, teaches, lectures, and produces and markets his own CDs. Ron's playing has often been compared to that of such jazz superstars as Cannonball Adderly and Jackie McLean. The group also includes pianist Rob Allgeyer, bassist Sonny Stephens, and drummer Jim Leslie. Ron and his group have played in Evansville numerous times, and have become favorites with local jazz audiences.
Admission to the concert is $15.00 for adults, $10.00 for Jazz Society members, and $5.00 for students with I.D. Tickets will be available at the door, or can be obtained by contacting the UE Department of Music at 488-2754.
"How to Make Your Business Dream a Reality"
Students are invited to attend a presentation and Q&A session by UE African-American Alumni entrepreneurs, titled "How to Make Your Business Dream a Reality," on Friday, October 16. The event is from 6:00 – 7:00 p.m., in Room 170 (Smythe Lecture Hall), Schroeder School of Business Building. The speakers will share resources, a sample business plan, stories and tips. All students interested in entrepreneurship are encouraged to attend this event.
Register online at www.uealumnionline.com/UEAAAEntrepreneurs15, or contact Angela Williams, assistant director of Alumni and Parent Relations, at aw162@evansville.edu or 812-488-2586.
Presenters include:
1. Al Baity '85, State Farm Insurance, owner and agent
2. Ed Lander '91 & Darin Lander '03, WEOA Radio Station, owner and general manager
3. Watez Phelps '01, M'04, SCORE
4. Jerome Stewart '04, Diversity Supply's Professional Procurement Services, owner
5. Denise Shane-Cheaney '01, Pink Elephant Celebrations, owner and Event planner
Light refreshments will be available.

Chocolate covered crickets
Join the Newman Club for fun at the West Side Nut Club Fall Festival Monday, October 5, at 5:00 p.m. We will meet at the Newman Center at 4:30 p.m to arrange a carpool. Come and enjoy everything from deep fried Oreos to chocolate covered crickets!
Please call/text Kristel at (812) 760-8610 for more information!

Celebrate Hispanic Heritage Month with Flores de otro mundo, Flowers From Another World
Flores de Otro Mundo (English: flowers from another world) is a 1999 Spanish film centered around a group of women who arrive by bus to a small town hoping to find stability, companionship, immigration papers or a combination of the three. It is a story of social integration and male/female relationships.
Location is in Hyde Hall in Room 126 on Monday, October 5 from 6:00 -8:00 pm.
Free snacks provided.
Sponsored by the Spanish Movie Club and the Office of Diversity Initiatives

Juan Morales Is Speaker for Hispanic Heritage Month
Special guest lecturer Juan Morales will speak on campus Tuesday, October 6, at 7:00 pm in Eykamp Hall, Room 251, in Ridgway University Center.
Morales is the author of a new book of poetry, The Siren World. He will read his poems in Spanish and English as part of the lecture. There will be seven signed copies given away to attendees.
Morales is a CantoMundo Fellow, the editor of Pilgrimage Magazine, president of the Pueblo Arts Alliance and directs the Creative Writing Program at Colorado State University-Pueblo, where he also curates the SoCo Reading Series.
The lecture is sponsored by the Office of Diversity Initiatives. For more information please contact LaNeeca Williams at lw161@evansville.edu or 812-488-2413.

Venturing Crew Fall Break and Membership Registration
Venturing Crew will be taking a sailing trip on Kentucky Lake over fall break. The officers will have a table set up in Ridgway on Friday, October 2, from 11:00 - 2:00 pm. This trip is for members only, so if you are not currently a member, you can register to become a member at the table as well. If you are a lifeguard, subsidization is possible if you serve as a lifeguard for the trip.
Engineering Speed Networking
Attention all students from the College of Engineering and Computer Science, RSVP in JobLink by October 5 to attend Engineering Speed Networking. The event will be held Wednesday, October 7, from 6:00 – 8:30 p.m. in Eykamp Hall, Ridgway University Center. Get face-to-face with employers interested in you! Space is limited, so RSVP today under JobLink's Events tab (Workshops).
UE Foreign Languages hosts their 11th Annual Linguapalooza Tuesday, October 6
The Department of Foreign Languages will host their 11th Annual "Linguapalooza" event on Tuesday, October 6, on campus at the Ridgway University Center. Tri State area high school students will be on campus to sharpen their foreign language skills by participating in culture, conversation and interactive sessions throughout the day. Students will also take a tour on campus in their studied language and enjoy breakfast and lunch together. The year, there are 169 students registered to attend from 13 high schools. The schools attending this year's event are: Boonville, Bosse, Castle, Evansville Day, Forest Park, Harrison, Heritage Hills, Loogootee, Mater Dei, North, Princeton, Tecumseh and Tell City.
UE Theatre Opens 2015–2016 Season with The Royal Society of Antarctica
The University of Evansville announces a dynamic start to its 2015–2016 season - The Royal Society of Antarctica by Mat Smart, a 2001 UE alumnus, opening Friday, Sept. 25, at 7:30 p.m., in UE's Shanklin Theatre. Additional performances are at 7:30 p.m. on Sept. 26, Oct. 1, 2, 3, and at 2:00 p.m. on Sept. 27 and Oct. 4.
"This really impressive new play succeeds partly because of its highly distinctive setting at the bottom of the world, partly because Mat Smart knows how to forge a metaphor about a community of needy misfits all running away from something, partly because it is penned with real wit and affection, and mostly because it brings together a collection of highly distinctive and lovable characters in whose fate we find ourselves strikingly invested." - Chris Jones, The Chicago Tribune
Amy Attaway, guest artist and 2001 UE alumna, directs The Royal Society of Antarctica. Department chair and associate professor of theatre Eric Renschler serves as the scenic designer; Caitlin McCarthy, a senior from Los Angeles, Calif., is the costume designer; Aaron Curry, a senior from Glendale, Ariz., is the lighting designer; Benjamin Phillips, a junior from Fort Worth, Texas, is the sound designer; and professor of theatre Diane Brewer is the dramaturg.
The twelve-member cast features sophomore Joseph W. Schwalb, from Milwaukee, Wis., as Ace; senior Samie Johnson, from Denver, Colo., as Dee; junior Chris Brumley, from Louisville, Ky., as Jake; junior Kit Bulla, from Springhill, Tenn., as Miller; senior Devin Fluker, from Las Vegas, Nev., as Pam; junior Rachel Woods, from Franklin, Tenn., as Tamara; sophomore Davis Cowart, from Bronwood, Ga., as UT Tim; senior Dylan Crow, from Danville, Ky., as UT Tom; freshmen Matt McDonald, from Carmel, Ind., Daniel Stewart, from Fort Worth, Texas, and Justin Lyons, from Evansville, Ind., as Jano 1, Jano 2, and Jano 3, respectively; and senior Henry Ragan, from Herndon, Va., as Hank (voiceover).
Ticket prices are $15 for adults and $13 for senior adults, students, and UE faculty and staff. UE students may obtain one free student rush ticket beginning at 12 noon on the day of the performance they wish to attend.
Subscriptions for the four-play Shanklin Theatre season are still available for $44 for adults and $38 for senior adults, students, and UE faculty. Including the play The Royal Society of Antarctica, a season subscription also includes the musical Big Fish, book by John August and music and lyrics by Andrew Lippa, Nov. 13 through 22; Lily Dale, by Horton Foote, Feb. 19 through 28; and Richard III, by William Shakespeare, Apr. 15 through 24.
Tickets may be purchased by calling (812) 488–2031, Monday through Friday, noon to 5 p.m.
Andiron Lecture on October 7
Matthew Hummel, UE alum and paralegal for the Vanderburgh County Public Defender Agency, will be the speaker for the Andiron Lecture on October 7. All the lectures in the series are at 4 p.m. in Eykamp 252 in Ridgway University Center, preceded by a social hour at 3:45 p.m. with beverages. All the Andiron lectures are free and open to the public.
Hummel's topic will be "The Antithesis of Justice." The abstractness of justice does not stop people from having some sense of what it is, even without really considering it. There exists a great rift among the varying conceptions of justice today. This lecture describes and looks at significant evidence of an antithesis of justice—a communicatory event brought on by epistemological crisis and characterized by counter-rationality and antagonism—which poses a considerable, unyielding threat to conceptions of justice grounded in rational debate. It also outlines suggestions for adapting the antithesis of justice into social philosophy as well as measures for coping with its effects.
Hummel graduated from the University of Evansville with bachelor's degrees in criminal justice and philosophy. He earned a Master of Arts in liberal studies with a focus in ethics and values from Valparaiso University Graduate School and is finishing up some post-graduate work in humane education. Presently, Hummel works as a paralegal for the Vanderburgh County Public Defender Agency and teaches a series of life skills classes at the United Caring Shelter. He is married to fellow UE alumna Caitlyn Prosser. Hummel has been published twice in the Blackwell Series of pop culture and philosophy books. He is also a regular performer with the Evansville Civic Theatre.
Changemaker Challenge Deadline Extended, More Coaching Offered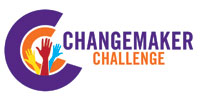 The video submission deadline for the Changemaker Challenge has been extended to Wednesday, October 7 at noon. If you are working on your project and you need more direction, or even if you are just getting started, the Social Innovation Club is offering additional video coaching and general information by appointment for the remainder of this week. Please contact Lauren (ll115) to arrange an appointment.
In addition, social innovator Patrick Odoyo will be available this Friday and next week for video training, consultation, and production assistance as follows:
Friday, October 2
2:00 – 5:00 p.m. by appointment
Monday, October 5 and Tuesday, October 6
12:00 – 5:00 p.m. by appointment
Text Patrick at 812-454-0286 for an appointment.
For more information, visit www.evansville.edu/cc or call 488-2455.
No Open Swim this Saturday
There will be no Open Swim this Saturday, October 3. Regular Open Swim hours will return on Sunday, October 4.
Come Try Out the Lightboard!
Faculty, have you ever considered flipping your classroom? Or, on a smaller scale: have you ever traveled to a conference and had to miss class? Did you wish there was a good way to still get content to your class that day? Had you thought about recording a video of lecture content, but stopped short? Were you concerned about how much time would be required, in preparation or post-production?
Please consider giving the lightboard a try! This powerful new lecture capture tool has arrived on campus thanks to the collaboration of many generous people who gave of their time and talent to make it possible. It dramatically simplifies the process and lowers the barrier to easily and quickly generate high-quality video-lecture content that can be as dynamic and engaging as you are.
While it is true that many lightboard users at other universities are often in science, technology, engineering, and math (STEM) disciplines, the applications to other disciplines abound! Whether it is from diagramming sentences, outlining or reverse–outlining written work, or to other potential applications, the ways in which you could use this tool are limited only by your imagination. You could even have your students use it for presentations, collaboration, or group work!
Please, take a look at the video(s) linked in the second paragraph above and contact Mike Slade (ms579; x2056) in the Department of Chemistry to request access or for more information.

UE Men's Soccer Visits Loyola on Saturday
The University of Evansville men's soccer team (2-6, 0-1) is on the road this weekend to play at Loyola University Chicago (4-3-2, 0-1) on Saturday, Oct. 3. The match will be held at Loyola Soccer Park and begin at 7:00 p.m. CDT.
HOW TO FOLLOW ALONG: LIVE STATS – http://stats.statbroadcast.com/broadcast/?id=96243 VIDEO (Free) - http://www.loyolaramblers.com/collegesportslive/?media=505135
UE Women's Soccer on the Road at UNI on Saturday
The University of Evansville women's soccer team (2-7-2, 0-0-1) travels to play the University of Northern Iowa (4-5-3, 0-1) on Saturday, Oct. 3. The match will be held at Cedar Valley Soccer Complex and begin at 1:00 p.m. CDT.
HOW TO FOLLOW ALONG: LIVE STATS – UNI.StatBroadcast.com
Swimming and Diving to open season this weekend
The University of Evansville swimming and diving teams begin their seasons this weekend with a home meet against Southern Illinois before they travel to the Butler Quad Meet on Sunday.
On Friday at 4 p.m., the Aces and Salukis will compete on the diving boards with that portion of the meet. The swimmers take their turn in the pool on Saturday, beginning at 11 a.m. That will be a unique meet, which will feature just relays.
Evansville then makes its way to the Indianapolis area on Sunday for the Butler Quad Meet. Set for a 12 p.m. ET start, it will take place at Fishers High School in Fishers, Ind. Five teams participate on the women's side including: Butler, Saint Louis, Wright State, Xavier and Evansville. On the men's side, Saint Louis, Wright State, Xavier and the Aces will take part.
Sunday's meet will be a long format event.
Returning for the women's team is Mackenzie Harris. One of the Purple Aces' top free swimmers, Harris will be one of the favorites at Butler as she will swim in the 50 free, 100 free and 400 free relay. On Saturday, she is set to take part in the fly relay, free relay and mixed medley relay.
Ethan O'Rourke is set to lead the men's squad. His events on Saturday include the back relay, 100 IM relay and 200 free relay. At Butler, he will swim in the 200 medley relay, 200 free and 200 backstroke.
- INFO: For all of the latest information on University of Evansville swimming and diving, log on to the sport page on GoPurpleAces.com or follow the program on Twitter via @UEAthleticsSWIM.
- DONATE: For information on giving to UE Athletics or its individual athletics programs, visit the DONATE tab on the top of GoPurpleAces.com.
- TICKETS: To purchase tickets for University of Evansville athletics events, log on to GoPurpleAces.com and click on the TICKETS tab on top of the page.
Aces Tennis Heads to MVC Individual Championships
The University of Evansville Women's Tennis team heads to Bradley University this weekend to participate in the Missouri Valley Conference Individual Championships. They are most recently coming off the Bowling Green State University Invite where they saw much improvement from their first fall play that happened a week before at Southern Illinois University at Edwardsville.
Freshmen Marine Darzyan and Doreen Crasta took home the high finish at the BGSU Invite with a 2nd place finish at flight one doubles. Darzyan was also able to take home 3rd place at flight two singles. Crasta and sophomore Kennedy Craig were both able to take home 4th place at flights three and five singles respectfully.
Senior Marina Moreno will lead the Aces at flight one singles. She will face Abby Stevens of Wichita State in her first match. Moreno is coming off a 7-5, 6-0 victory over Carynne Lloyd of Chicago State. Darzyan will open at her weekend at flight two singles against Alejandra de Lasa.
Junior Andjela Brguljan will represent the Aces at flight three singles when she takes on Anelisse Torrico of Missouri State University. Brguljan is coming off a 7-6(2), 7-5 loss against Oana Manole of the University of Illinois at Chicago. At flight four singles, Crasta will take on Chanel Scudiero of Illinois State.
Sophomore Kennedy Craig is coming off a 6-3, 6-0 win over Bianca Zuzu of UIC. She will open play at flight five singles against Aimee Manfredo of Bradley. Leah Helpingstine will represent the Aces at fight six singles and will face Yana Golovkina of Southern Illinois. Lastly, at flight seven singles, Elizabeth Mendes will open up against Vitoria Beirao of Southern Illinois.
Darzyan and Crasta will again represent the Aces at flight one singles and will take on Jieke Stroobant and Elvira Lopez of Northern Iowa. Marina Moreno and Kennedy Craig will also take on Athena Chrysanthou and Ana Sofia Cordero of Southern Illinois at flight two doubles. Lastly, at flight three doubles Helpingstine and Mendes will take on Ariel Dechter and Irinka Toidze of Bradley.
• INFO: For all of the latest information on University of Evansville athletics, log on to the sport page on GoPurpleAces.com or follow the program on Twitter via @UEAthletics.
• DONATE: For information on giving to UE Athletics or its individual athletics programs, visit the DONATE tab on the top of GoPurpleAces.com.
• TICKETS: To purchase tickets for University of Evansville athletics events, log on to GoPurpleAces.com and click on the TICKETS tab on top of the page.
-www.gopurpleaces.com-

CBS Sports Network to televise MVC MBB Slate
CBS Sports Network will air a 10-game Missouri Valley Conference men's basketball television package, including the State Farm MVC Men's Basketball Tournament semifinals as well as eight regular-season games, Commissioner Doug Elgin announced today.
Additionally, CBS Sports will continue to televise the Arch Madness title game, which it has aired for ten consecutive years.
Evansville is set to have at least two games televised on the CBS Sports Network. The first will be the Jan. 19 home game versus Loyola while the second will be the Feb. 11 home contest against Illinois State.
"Gaining the ability to have a second national partner televise our men's basketball contests was a key element in our negotiations with ESPN, and we recognize ESPN and CBS Sports for their continued willingness to spread the Conference brand through a sublicense agreement," said Elgin, who is in his 28th year with the Conference.
"Our postseason tournament begins the final week of men's basketball coverage leading up to Selection Sunday, and we are grateful to have heightened Arch Madness broadcast exposure from CBS Sports," said Elgin.
The regular-season package of games on CBS Sports Network reflects the success of The Valley, which saw two teams represent the league in the final Associated Press rankings in 2015 -- Wichita State (14) and UNI (11) -- as a well as a run to the NCAA Sweet 16 by Wichita State, which marked the sixth MVC team to reach the Sweet 16 in the past 10 years.
Of the seven pre-determined league match-ups, Wichita State will appear in three games, while Evansville, Illinois State, Loyola and UNI are slated for two appearances each.  The CBS Sports Network package, which features contests on Saturdays and select mid-week nights, begins on Jan. 9, with Wichita State visiting Southern Illinois at SIU Arena in Carbondale, Ill., in a 3 p.m. Central telecast.
The men's basketball regular-season package in January also features Loyola at Evansville (Jan. 19), and Loyola at Wichita State (Jan. 27).
In the month of February, telecasts include UNI at Drake (Feb. 6), Illinois State at Evansville (Feb. 11), Missouri State at Wichita State (Feb. 18) and Illinois State at UNI (Feb. 20).
The February lineup concludes on Saturday, Feb. 27, when ESPN and CBS Sports Network will utilize the Wildcard Selection process to choose from five games -- Illinois State at Wichita State, UNI at Evansville, Missouri State at Southern Illinois, Loyola at Drake and Bradley at Indiana State.
The wildcard games selected to air on ESPN and CBS Sports Network will be announced on Friday, Feb. 12.
CBS Sports' coverage of the 2016 State Farm MVC Men's Basketball Championship -- the league's 26th consecutive postseason tournament in St. Louis -- will include the semifinal games on March 5 on CBS Sports Network. The title contest on March 6 will air at 1 p.m. Central on CBS Sports.
- INFO: For all of the latest information on University of Evansville men's basketball, log on to the sport page on GoPurpleAces.com or follow the program on Twitter via @UEAthletics_MBB.
- DONATE: For information on giving to UE Athletics or its individual athletics programs, visit the DONATE tab on the top of GoPurpleAces.com.
- TICKETS: To purchase tickets for University of Evansville athletics events, log on to GoPurpleAces.com and click on the TICKETS tab on top of the page.
Aces Volleyball to open home MVC schedule Friday
For just the second weekend of the season, the University of Evansville volleyball team will be at the Carson Center as the Purple Aces open up the Missouri Valley Conference portion of their home schedule on Friday evening against Loyola.
The Aces and Ramblers tangle at 7 p.m. on Friday with Bradley making its way to the Carson Center for a 6 p.m. match on Saturday.
Saturday evening saw the Aces put together their top conference performance in recent memory despite falling by a 3-2 final at UNI. It marked the first time the Aces and Panthers went to five sets since the 1997 season and was just the fourth time since 1997 that the Aces have pushed the Panthers past three sets.
Evansville opens up its home conference schedule this weekend with matches against Loyola and Bradley. Last year, the Aces completed a weekend sweep over the pair, earning its first home conference weekend sweep since 2010. Interestingly enough - the Aces did record a weekend conference sweep each season from 2008-10.
A 40-kill performance by Kim Deprez set the University of Evansville program record on Saturday versus UNI. Her final tally was the second-most in the NCAA this season and was the top MVC tally thus far. Deprez has averaged 5.33 digs per set this season and is solidly in the top 15 in the NCAA.
The performance against the Panthers marked the most digs by a player in UE history. It broke Julie Sylvester's record of 38, which was set in 2009. Her total was the 8th-most in a match in conference history and was the most that a league player recorded since 2013. She was also strong in the MVC opener at Drake, posting 20 kills in just three sets against the Bulldogs. Deprez leads the MVC with 5.33 per set and is even better in two league outings, posting 7.50.
Aces sophomore Genesis Miranda is ranks near the top of the NCAA in several key statistics. Her highest rank is 3rd in the nation in total points with 318.5. That translates into 5.06 per set, 15th in the country. When it comes to attacks, her numbers are just as impressive. She ranks 4th in the nation with 772 total attacks and is 9th with 12.25 per set. Many of those attacks are converted into kills and her 4.25/set is 28th in the NCAA while her total kill tally of 268 is 7th.
Off to their best start since 1995 are the Loyola Ramblers, who are off to a 12-3 start to the season. They had an 11-match win streak snapped on Monday with a 3-1 loss to Drake. Aside from their stellar record, the Ramblers lead the conference in several categories including: hitting percentage (.258), opponent hitting (.154), assists (13.14) and kills (13.94/set). Sami Hansen is the top hitter in the league as she begins the weekend at .441.
The Braves start the weekend with an overall mark of 5-9 and are 0-2 in league play. After starting the season with a 5-1 record, Bradley has dropped its last seven matches, including a Tuesday loss to UNI. Senior Jessica Teel ranks second in the conference in service aces with 0.37 per set. She is just 0.02 away from the top spot. Defensively, Lea Sack is third in the Valley with 4.75 digs per set.
- INFO: For all of the latest information on University of Evansville volleyball, log on to the sport page on GoPurpleAces.com or follow the program on Twitter via @UEAthletics_VB.
- DONATE: For information on giving to UE Athletics or its individual athletics programs, visit the DONATE tab on the top of GoPurpleAces.com.
- TICKETS: To purchase tickets for University of Evansville athletics events, log on to GoPurpleAces.com and click on the TICKETS tab on top of the page.

Contribute to AceNotes
To have content considered for inclusion in AceNotes, please submit a Marketing Request Form. Deadline for submission to AceNotes is 10:00 a.m. on the requested date of publication. Only articles concerning UE related/sponsored activities will be accepted. Articles submitted to AceNotes may be edited for length and clarity. Submitter contact information is at the end of each article.