| | |
| --- | --- |
| AceNotes Today | Monday, September 21, 2015 |
Forever Purple Combines Homecoming and Family Weekend
Forever Purple: Homecoming and Family Weekend is coming up this weekend, September 25-27. This year Homecoming Reunion Weekend and Family Weekend have been combined for one weekend with lots of activities.
Faculty, staff and their families are invited to join students, parents and alumni at the Forever Purple Carnival on Saturday, September 26, from 2:00 and 6:00 p.m. on the East Terrace Lawn outside of the Ridgway University Center. Those attending can enjoy food, games, and prizes.
A soccer doubleheader will fill the afternoon with the women facing Loyola at 3:00 p.m. and the men taking on Drake at 6:00 p.m. Hall of Fame coaches Mick Lyon '89 and Fred Schmalz, along with members of the 1985 and 1990 NCAA final four teams, will be recognized at the men's match.
The grand finale of the evening will be the first ever fireworks show on campus held following the men's soccer match (approximately 8:15 p.m.). The best viewing will be from the practice field north of McCutchan Stadium.
For the full schedule of events, visit www.evansville.edu/alumni. For more information, contact alumni@evansville.edu or 812-488-2586.
Hot Water Outage
There will be a hot water outage on Tuesday, September 22, beginning at 6:00 am, and lasting until approximately 9:00 am. The outage will affect most buildings on campus.
Newman Club Dinner and Discussion TONIGHT
The Newman Club, UE's Catholic Campus Ministry, would like to invite everyone to join us TONIGHT (September 21) at 5 p.m., for our Monday night dinner and discussion. This week's talk, "The Greatest Love Story Ever Told," will be presented by junior Nick Raupp. Homemade lasagna, salad, and dessert are on the menu this week! Dinner programs are held each Monday from 5-6:30 pm at the Newman Center (across from campus on Lincoln Avenue), and we hope you will join us for these evenings filled with friends, food, and faith! All are welcome!
Please call or text Kristel Riffert at (812) 760-8610 for more information!

Blessing of the Athletes Today, 6 PM, in Neu Chapel
Reminder: Student-athletes, coaches, and athletic staff are invited to the annual Blessing of the Athletes ritual this evening at 6:00 p.m. in Neu Chapel. University faculty, administrators, and staff are invited to attend and may sit in the Neu Chapel gallery (upstairs loft).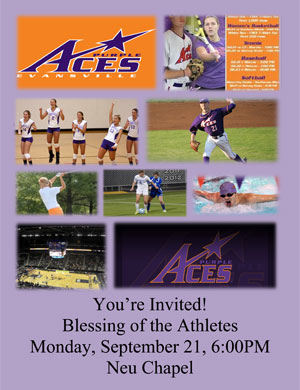 This Week in Music: A Faculty Recital and the Family Weekend Concert
Consortium Instructor of Flute Cara Dailey will present this week's Faculty Recital in Wheeler Concert Hall on Tuesday evening, September 22, at 7:30 p.m. Professor of Music Anne Fiedler will accompany Instructor Dailey on the piano, and the two will perform a variety of works ranging from the Baroque to the Modern era. Featured composers will include Bach, Vivaldi, and Fritz Kreisler, and the program will conclude with a performance of Ingolf Dahl's Duettino Concertante (1966).
The Department of Music will present its annual Family Weekend Concert in Neu Chapel this Saturday afternoon, September 26, at 2:00 p.m. The program will begin with the University Choir performing two works under the direction of Associate Professor and Director of Choral Activities Dennis Malfatti. Visiting Assistant Professor and Director of Orchestral Activities Jessica Morel will then lead the University Symphony Orchestra in a performance of Jean Sibelius's Karelia Suite. The program will conclude with three works performed by the University Wind Ensemble with Associate Professor and Director of Bands Kenneth Steinsultz conducting.
Both concerts are free and open to the public.
I-House: Pakistan
This Wednesday's I-House features Pakistan with Usama Bin Tauqeer and Rahema Obaid as the presenters! Rahema is majoring in economics, and her favorite hobbies are reading and listening to music. Her favorite part about UE is the diversity and friendliness of the student body!
Make sure you guys come out at 7 p.m. to the 1959 Lounge on the second floor of Ridgway University Center to hear all about Pakistan!

Fiddick Lecture to Discuss "American Sports and Political Activism"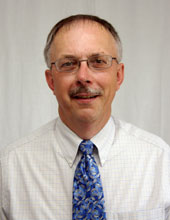 The University of Evansville's Department of History is proud to welcome Steven P. Gietschier, university curator and associate professor of history at Lindenwood University, for the 14th annual Thomas C. Fiddick Memorial Lecture.
Gietschier will present "'From Before Jackie Robinson to After Ferguson.' American Sports and Political Activism" at 7 p.m. on Friday, October 30, in Room 170 of the Schroeder School of Business Building. His lecture is free and open to the public.
In the wake of professional athletes commenting publicly on the events in Ferguson and other acts that have led to community protests, Gietschier will examine the long history of American athletes getting involved in political or social activism. He will explore the circumstances where American athletes have stepped away from their games and into the larger arena in which we all live, as well as the times when they have they not. He will examine why these decisions were made and the results of these decisions.
Gietschier earned his BSFS in International Affairs from the School of Foreign Service at Georgetown University and his MA and PhD in history from The Ohio State University. Before being appointed to the Lindenwood faculty in 2009, he worked for the Ohio Historical Society, the South Carolina Department of Archives and History, and The Sporting News. He joined the staff of The Sporting News in 1986, as the publication was celebrating its centennial, to take charge of the company's archives. He turned a chaotic collection of books, periodicals, photographs, index cards, clippings, and other materials into the Sporting News Research Center, one of the outstanding special libraries specific to sport, especially baseball, in the United States. He also wrote the annual "Year in Review" essay in the Baseball Guide and edited the Complete Baseball Record Book for five years.
"Steve Gietschier is an extremely distinguished historian of American sports and we are absolutely thrilled to bring him to the University of Evansville to deliver the Fiddick Lecture and interact with students in class," said James MacLeod, UE professor of history and director of the Fiddick Memorial Lecture Series. "Professional athletes have played an important role in our nation's politics over the years, and we are very much looking forward to having one of the country's leading sports historians with us for the Fiddick Lecture."
"It is especially appropriate," added MacLeod, "Given Tom Fiddick's lifelong passion for professional sports, especially baseball."
Fiddick, for whom the Fiddick Memorial Lecture is named, served as professor of history at the University of Evansville from 1963 to 2002. In his 39 years at the University, he was a dedicated teacher, a productive scholar, and a tireless fighter in the cause of justice. His untimely death on the day of his retirement in 2002 stunned the entire UE community, especially his many former students. It was from the former students' efforts in particular, with the support of Fiddick's friends and the University, that the annual Thomas C. Fiddick Memorial Lecture was established.
Flu Shots Available Monday
Tri State Community Clinics will be offering flu shots on Monday, Sept. 28, 2 pm - 6 pm in the UE Employee Medical Center (Sampson Hall-Crayton E. and Ellen Mann Health Center). Flu shots are FREE to employees on the UE health insurance as well as any of their family members that are on the insurance. Other participants will pay $20 (cash only) & will receive a receipt to submit for reimbursement through their insurance.
UE PT Graduate to Give Homecoming Lecture
The University of Evansville fifth annual Homecoming Lecture is planned for September 26, at 10:00 a.m., in Eykamp 252, Ridgway University Center. The speaker will be Tara Halably, physical therapist at Worldwide Wrestling Entertainment. Halaby received her masters of physical therapy degree from UE in 2007. The event is free and open to the public.
During her lecture, Halaby will be sharing her career experience working for WWE and describe how her educational foundation from UE helped fuel her career. For the past two years, Halaby has been working at the WWE Performance Center in Orlando, Florida, as its only staff physical therapist. Along with Halaby, the medical team at the WWE Performance Center is composed of a medical coordinator, two physicians and three athletic trainers. Approximately 70 men and women train daily at center, learning what it takes to become the next WWE superstar or diva.
For the full schedule of events, visit www.evansville.edu/alumni. For more information, contact alumni@evansville.edu or 812-488-2586.

Psychology Club Call Out Meeting!!
Psychology club will have its first meeting on Thursday, September 24, in Room 162, Schroeder School of Business Building from 6:30 pm until 8 pm. This meeting will also include a senior panel where you can learn about different pathways to take in the field of psychology by listening to seniors and asking them questions about where they are going!
Seniors will talk about Graduate school, Medical school, Law school, Human Resources, Social work, and Neuroscience!
Anyone is welcome to join!
Voting for Homecoming's Mr. and Miss UE Has Begun!
Voting for Homecoming's Mr. and Miss UE began Monday, September 21 at 8:00 am, and will go until Tuesday, September 22 at 5:00 pm. To vote, go to Acelink! The winners will be announced during halftime of the men's soccer game on the following Saturday, September 26. Spread the word!
Office Depot/Office Max Vendor Show & More!
The 2015 UE Office Depot/Office Max Vendor Show & More is coming for UE employees on Wednesday, September 23, from 11:00 a.m. to 1:00 p.m. in Eykamp Hall, Ridgway University Center. Come and check it out.
Writing Center Bootcamp: Thesis Statements
Learn the basics of thesis writing this Wednesday, September 23, from 5:00 – 5:45 p.m. in the Writing Center. This session will address what the thesis is, why it is important, and how it should be structured. We will also cover some basic tips on organizing essays. Hope to see you there!
Shark Tank Star Daymond John to visit UE for Q&A
Daymond John is a co-star on ABC's Emmy Award winning reality business show Shark Tank and the founder and CEO of FUBU, a clothing company that has amassed more than 4 billion dollars in worldwide retail sales to date.
Student Q&A Session
Tuesday, October 20
3:00 - 4:00 p.m.
Smythe Lecture Hall, Room 170
Schroeder School of Business
Advanced registration required. Online registration opens October 1, 2015, at 6:00 p.m. Space is limited.
Register online (LINK http://goo.gl/forms/mLC6z2bXEw)

UE Conference for Alumni of the Natural Sciences and Mathematics Is Sept 25-27
The University of Evansville Annual Conference for Alumni of the Natural Sciences and Mathematics is September 25-27. Several events are planned. The public is invited to attend.
The Dr. Guy Banta Distinguished Lecture Series is Friday, September 25 at 3:00 p.m. in Room 102, Koch Center of Science and Engineering on UE's campus. Speaker Kimberly Fessel will discuss "Playing it by ear -- the art of interdisciplinary STEM"
Fessel graduated from UE in 2006 with a BS in applied mathematics and professional chemistry. She earned an MS in applied mathematics in 2009 and a PhD in mathematics in 2013, both from Rensselaer Polytechnic Institute. Fessel is currently a postdoctoral fellow at the Mathematical Bioscience Institute at the Ohio State University. She is primarily interested in mathematical biology, asymptotic methods, and combining analytics with numerics to arrive at system solutions. Current areas of research include modeling cancer lineage, analyzing glucose-insulin dynamics, and developing a comprehensive model for the transduction of mammalian cochlea. Her talk will touch on this work and describe her own journey through several branches of STEM.
Also on Friday, there will be a Natural Sciences and Mathematics Reception from 5:00-7:30 p.m., in UE's Melvin Peterson Gallery.
For more information, download the flyer.
Award Winning Documentary on HPV Epidemic to be Shown on Campus
An award-winning documentary, "Someone You Love: The HPV Epidemic." will be shown on campus on September 23. The showing will be in Eykamp Hall in Ridgway University Center and will begin at 6:00 p.m. and is expected to last until 8:00 p.m. Admission is free.
The View from Neu: A Monday Reflection from UE Chaplain Tammy Gieselman
Peter W. Marty, Lutheran minister, wrote an article for the Christian Century a few years ago about William H. Whyte who was a leader in the study of modern urban street life and spent decades studying the patterns of diverse people on the move. Marty told of Whyte's fascinating analyses of crowd behavior on New York City streets, using time-lapse photography and extensive notes and graphs, which are published in his 1988 book City: Rediscovering the Center. Whyte discovered that pedestrians walking on busy sidewalks have a natural way of avoiding collisions with one another. Without even realizing it, they form a mass or a crowd that is both smooth and efficient. "They give and they take, at once aggressive and accommodating." The sidewalk scene comes alive with movement and color -- people walking quickly, walking slowly, skipping up steps, weaving in and out in crossing patterns, accelerating and retarding to match the moves of others. There is a beauty," Whyte said of this sight, "that is beguiling to watch."
As I peruse through my already full inbox on Monday morning, I'm struck by the image of us, the UE community, walking quickly, walking slowly, skipping up steps, weaving in and out in crossing patterns, accelerating and retarding throughout the week. Like the people on that crowded New York City sidewalk, it's captivating to watch our UE community at work, crunching numbers, copying brochures, coaching the last practice before the big game, rehearsing the last measure for the 14th time, writing the report over again after the third proof, and the list goes on. My hope for us this week is that we take time to look up and to notice the people who help form our community, our life together; that we understand better the importance of getting out of our offices and participating in meaningful conversations with our colleagues. I'm reminded of something Parker Palmer once wrote: In community one learns that the problems we pose for one another are not obstacles blocking our progress, but ways of refining our understandings, and if we can embrace the problems (and each other) then the possibilities appear.

Rental Books can be Purchased
Just a reminder from the UE Bookstore that if you rented a textbook in the Bookstore and now feel that you would like to purchase the book instead, stop by the Bookstore. The Bookstore will apply the rental fee you paid to the purchase price of the book if you so decide to purchase the book. If you have any questions please contact the Bookstore.
Reminder: First Year Students Earn $5.00 for Taking IDEALS Survey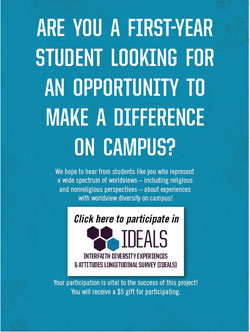 First year students can earn $5.00 just by taking the IDEALS survey, which was sent to their UE email account last week.
IDEALS is a national survey that will be used to identify high-impact practices associated with positive interaction across religious and spiritual diversity. According to Interfaith Youth Core, UE will be able to leverage these high-impact practices to create a healthy campus environment, introduce effective programming/experiences, and learn more about the religious climate on campus. This study is the first of its kind. Previous studies have provided a foundational understanding of interfaith interaction, but few tools fully explore the ways in which we can leverage campus experiences to promote effective interfaith work. IDEALS is designed as a longitudinal study that explores the way in which the UE campus can better understand what programmatic experiences are effective and helpful for students. Thank you for your participation in this important work!

September Pcard Cycle Reconciliation Due
The September Pcard cycle which began August 22 ends at midnight on September 21. As of September 23, cardholders may schedule and run the September Cycle report. September transactions may be reconciled in SDG2 until September 28. On September 28, the general ledger Pcard file will be uploaded and cardholders will be locked out of (unable to make changes) posted transactions for the September Cycle.
Volunteering Opportunity at Audubon State Park
There will be a volunteering opportunity at Audubon State Park on Saturday, Sept. 26, from 8:30 a.m.-noon. Meet at the Park Office/Welcome Center. Lunch will be provided
National Public Lands Day is the nation's largest single-day volunteer effort for America's public lands. This year marks the 21st annual celebration and we'd love you to join in. Lunch will be provided for volunteers. This is a great opportunity for church groups, scouts and others to help beautify the park. Volunteers should wear appropriate clothing for the weather and for trail improvement projects.
Groups and individuals interested in volunteering should contact Mark Kellen. Staff Contact: Mark Kellen at (270) 826-2247 or mark.kellen@ky.gov

Ralph Larmann, UE Professor of Art releases 2nd edition, of Gateways to Art
Thames & Hudson, The world's most distinguished publisher of illustrated books on art, history, and design announce the release of the second edition of Gateways to Art by Debra DeWitte, Ralph Larmann (UE Professor of Art), and Kathryn Shields. The text will be available on October 6, 2015. The original Gateways to Art text is currently the market leading art text in the world and has sold over 75,000 copies that are in use on over 300 college campuses across the United States. This new edition has been expanded to include a greater range of iconic artworks and more contemporary art, while still focusing on art as a global phenomenon. Professor Larmann not only contributes the majority of the written content, but also all line art and text design direction.
This is the third text by this author team published this year. In January the Gateways to Art AP* edition was released for use by high school students who are seeking advanced placement in college art history. On September 4th The Thames & Hudson Introduction to Art received a full page review in the Times of London that endorsed the book, describing its innovative structure as an, "… emphatically multivalent approach that makes this book special." The Thames & Hudson Introduction to Art will be available in most major museum bookstores in the United Kingdom and elsewhere internationally on September 21st.

Aces cross country runs at Commodore Classic
A crowded field of participants took part in the Commodore Classic on Saturday as the University of Evansville cross country teams ran their third race of the season. Freshman Siena Crews and junior Ben Woolems led their respective squads.
"This meet was against some stellar competition, but our times were not what we were looking for," head coach Don Walters said. "The conditions changed after we arrived and got very humid, but everyone else was battling those same conditions."
"I do want to give a lot of credit to Michelle Karp for just making it to the race and getting close to her PR. What she did set a great example for our teams."
Karp spent Friday evening working as a trainer at a local high school football game. After a late night, she got a few hours of sleep, drove to Nashville and competed at a high level. She came within five seconds of her PR, running a 20:33.2 to finish third on the UE squad. Leading the women was Crews. She finished 167th out of 244 runners with a 5K time of 19:36.3.
Elizabeth Kingshott was second for UE, finishing in a time of 20:03.8. It was her top 5K race of the year. Karp was the third Ace across the stripe with Ashton Bosler trailing her. Bosler posted a time of 20:46.0, besting her PR from the Early Bird Invite. Laurel Wolfe (21:53.3) rounded out the top five while Bailey George, Ashley Torres, Hayley Elliott, Katie Beaber and Anna Loef rounded out the squad.
Woolems was the top performer on the men's side. His 8K time checked in at 29:55.3, placing him 193rd out of 213 runners. Ross Frondorf was next, posting a 30:08.0 while Paul Schwartz ran a 30:16.8 to finish third on the team. Jordan Carpenter set a PR as he crossed the line in 30:59.5. It was almost two minutes under his best time in the Early Bird Invite.
James Paul, Vince Cecil, Andrew Barrett and Daniel Zoufal completed the UE contingent. For Cecil, it was his debut with the program. He ran a respectable 31:33.1 in his first race.
Next Saturday, the Aces are back in the state of Tennessee when they travel to the Austin Peay Cross Country Festival.
- INFO: For all of the latest information on University of Evansville cross country, log on to the sport page on GoPurpleAces.com or follow the program on Twitter via @UEAthleticsWXC.
- DONATE: For information on giving to UE Athletics or its individual athletics programs, visit the DONATE tab on the top of GoPurpleAces.com.
- TICKETS: To purchase tickets for University of Evansville athletics events, log on to GoPurpleAces.com and click on the TICKETS tab on top of the page.
UE Tennis Concluded BGSU Invite on Saturday
The University of Evansville Women's Tennis Team wrapped up the BGSU Invite at Bowling Green State University on Saturday. Flight one doubles partners Marine Darzyan and Doreen Crasta, both of whom are freshmen, were able to take home 2nd place in there respected flight and were the high finish for the Aces on the weekend.
In singles action, Marina Moreno was able to end her weekend with a 7-5, 6-0 victory, and taking 5th place over Carynne Lloyd of Chicago State University at flight one singles. Darzyan did the same when she took 3rd place over Lauren Thai of Toledo by a score of 6-3, 6-1 at flight two singles.
Flight three singles was represented by Crasta for UE. She finished in 4th place when she took a 6-4, 7-5 defeat from Emily Mazzola of Toledo. Andjela Brguljan brought home a 6th place finish for the Aces when she was defeated by Oana Manole of University of Illinois at Chicago by a score of 7-6(2), 7-5 at flight four singles.
Kennedy Craig also took home 4th place when she was defeated by Bianca Zuzu of UIC by a score of 6-3, 6-0 at flight five singles. Flight six singles ended with Elizabeth Mendes of UE taking a 8-1 loss to Leeah Floyd of BGSU to bring home an 8th place finish. Lastly, Leah Helpingstine was able to pick up a default victory over Hayley Trinkle of IUPUI at flight seven singles.
As mentioned, Darzyan and Crasta brought home 2nd place at flight one doubles when they took a 6-3 loss to Paula Cornella Aguilo and Drew Fillis by a score of 6-3. Andjela Brguljan and Kennedy Craig were able to take a default win over Carynne Lloyd and Marnie Perez-Ochoa.
Women's tennis coach Jayson Wiseman added:
"This tournament was a great measuring stick for our ladies and for our team. We got the chance to compete against some terrific players from around our region and were able to post some pretty good results. I am extremely proud of how our team competed in both singles and doubles."
"There was measurable improvement from our first tournament, and I'm looking forward to continued improvement as we prepare for the Valley individual championships in 2 weeks."

The Aces will be back in action October 2nd-4th when they head to Bradley University for the MVC Individual Championships.
• INFO: For all of the latest information on University of Evansville athletics, log on to the sport page on GoPurpleAces.com or follow the program on Twitter via @UEAthletics.
• DONATE: For information on giving to UE Athletics or its individual athletics programs, visit the DONATE tab on the top of GoPurpleAces.com.
• TICKETS: To purchase tickets for University of Evansville athletics events, log on to GoPurpleAces.com and click on the TICKETS tab on top of the page.
-www.gopurpleaces.com-

Purple Aces volleyball completes Chippewa Challenge
University of Evansville sophomore Genesis Miranda tallied 28 kills in a pair of matches on Saturday as the Purple Aces finished up the Chippewa Challenge in Michigan.
In the opener, the Aces (6-8) fell to Omaha in five sets before dropping the late game to San Jose State by a 3-1 final.
"We grew through good and bad moments this weekend. A young team like ours, needs these kinds of adverse situations to develop," UE head coach Manolo Concepcion said. "Our "best" this weekend was a very high level, so that is encouraging. Now, its about working on the low points, our weakest links, and training specificity in preparation for our first week of Conference."
"We went through Pre-Season where we played similar levels of what we will see in the conference, so our team could learn create comfortability in uncomfortable scenarios. I look forward to lead a team full of long-term potential."
Highlighting the day was an 18-kill effort by Miranda against the Mavericks with Mildrelis Rodriguez had 11 and Stephanie Cerino totaled 10. Miranda led the way for UE in the second match, tallying ten. Lorena Marquez tallied 59 assists on Saturday while Kim Deprez had an impressive pair of efforts with 53 digs. Included in that was 35 versus Omaha.
Evansville picked up a win the first set, defeating the Mavericks, 25-21. A good start saw the Purple Aces score the opening three points before Omaha found its rhythm, tying it up at 8-8. The Aces had a big answer as Stephanie Cerino and Elizabeth Giller recorded two kills apiece as UE reeled off the next seven tallies before earning the 25-21 win.
A 5-1 run to begin the second game was all Omaha needed to take a 25-20 win and tie up the match. Evansville got within one at 16-15, but the Mavericks rallied back to finish off the set.
In the third game, a pair of Lorena Marquez service aces saw UE jump out to a 4-0 lead. The lead extended to 13-7 before Omaha made its way back, utilizing a 6-1 stretch to cut the UE lead to just a point at 14-13. A 5-1 run by Evansville put momentum back in their favor as back-to-back service aces by Miranda pushed UE to a 25-19 win.
The Mavericks started game four on a 5-1 run before Evansville took advantage of a Cerino kill to get back in the game and take a 10-9 lead. Just as fast as the Aces got back into the game, Omaha tied it up at 10-10 and with the score tied at 12-12, they scored 12 of the next 14 points to push their edge to a game-high 24-14 before winning by a 25-18 final. They were able to capitalize on that momentum in the deciding game, taking the match with a 15-8 victory.
Set #1 against San Jose State was an all-out battle. Eight ties led to an 11-11 score before the Aces scored three in a row on kills by Miranda and Fortuny. Down 14-11, San Jose State went on an 8-1 stretch as they opened up their largest lead at 19-15. The Aces did not let the deficit deter them as a Marquez service ace highlighted a rally that saw UE tie it up at 21-21 before two more Miranda tallies gave UE a 25-23 win.
Early in the second frame, it looked as if UE had momentum on its side, taking a 3-1 lead. With the score tied at 7-7, though, the Spartans extended their muscle as an unbelievable stretch pushed them to a 25-13 win to knot the match at 1-1. San Jose State was able to keep its momentum rolling in the third and fourth sets, clinching the match with finals of 25-11 and 25-17.
Missouri Valley Conference play commences next weekend for UE as they travel to Iowa to take on Drake and UNI.
- INFO: For all of the latest information on University of Evansville volleyball, log on to the sport page on GoPurpleAces.com or follow the program on Twitter via @UEAthletics_VB.
- DONATE: For information on giving to UE Athletics or its individual athletics programs, visit the DONATE tab on the top of GoPurpleAces.com.
- TICKETS: To purchase tickets for University of Evansville athletics events, log on to GoPurpleAces.com and click on the TICKETS tab on top of the page.
UE Women's Soccer Defeated 2-1 at Vanderbilt
The University of Evansville women's soccer team (2-7-1) was defeated 2-1 at Vanderbilt (5-4-1) on Sunday afternoon. Senior midfielder Caitie Dierkes scored her first career goal as UE's second half opportunities came up just a bit short in the one goal loss.
"The girls played the best we have played collectively this season," said Evansville head women's soccer coach Krista McKendree. "They came out with a desire to compete and win. We played very good soccer against a very athletic team and created some very good looks on goal. This is how we needed to play heading into our conference opener on Saturday."
UE leapt ahead in just the seventh minute of the match. Junior defender Jordin Campbell sent a ball up the right wing for Dierkes. Her shot from the close right side was scored in the center of the goal for the 1-0 advantage.
Evansville nearly extended the lead in the 37th minute but a shot from junior Bronwyn Boswell bounced off the post. Vanderbilt then assembled a counterattack and tied the contest on a 38th minute goal. The Commodores also scored the go-ahead goal in the 70th minute.
Trailing by one, UE had a few opportunities to even up the match but a 75th minute shot from junior midfielder Colleen Dierkes, a 76th minute attempt by Boswell and a 77th minute shot from freshman forward Sara Osinski were all saved by Vanderbilt goalkeeper Christiana Ogunsami. Evansville's last attempt from Colleen Dierkes in the 88th minute also sailed wide as Vanderbilt claimed the one goal win.
The Aces outshot the Commodores 11-10 in the match including a game-high four from Boswell (three on goal). The assist from Campbell was the first of her collegiate career. Senior goalkeeper Simone Busby also recorded four saves.
The Aces return home to host Loyola on Saturday, Sept. 26. It will be the team's annual Multiple Sclerosis game and Homecoming with kickoff set for 3:00 p.m. CDT. Homecoming festivities include a soccer doubleheader, an on-campus carnival, an athletics yard sale, on field recognitions and the first fireworks extravaganza in UE Athletics history!
INFO: For all of the latest information on University of Evansville athletics, log on to the sport page on GoPurpleAces.com or follow the program on Twitter via @UEAthletics.
DONATE: For information on giving to UE Athletics or its individual athletics programs, visit the DONATE tab on the top of GoPurpleAces.com.
TICKETS: To purchase tickets for University of Evansville athletics events, log on to GoPurpleAces.com and click on the TICKETS tab on top of the page.

Contribute to AceNotes
To have content considered for inclusion in AceNotes, please submit a Marketing Request Form. Deadline for submission to AceNotes is 10:00 a.m. on the requested date of publication. Only articles concerning UE related/sponsored activities will be accepted. Articles submitted to AceNotes may be edited for length and clarity. Submitter contact information is at the end of each article.