| | |
| --- | --- |
| AceNotes Today | Friday, September 18, 2015 |
Hot Water Outage
There will be a hot water outage on Tuesday, September 22, beginning at 6:00 am, and lasting until approximately 9:00 am. The outage will affect most buildings on campus.
Dessert Sale Today!
The Phi Alpha Delta Dessert Sale is back again this semester! We will be selling cake pops and 4-Layer brownies (both $3.50) today in Ridgway University Center at 11 a.m.-1 p.m. and 5-7 p.m. We take cash and credit/debit card. A portion of our proceeds will benefit Holly's House of Evansville -- a non-residential advocacy center for child and adult victims of intimate crimes. Pre-orders welcome, email kc203.
Calling All Dancers!
Are you interested in representing the university while supporting other students? Do you have dance experience? If so, please join us for auditions today at 4:00 pm in the large gym of the Carson Center. For necessary forms and additional information, please contact Coach Brooks via email at sr99@evansville.edu.
Semester's first reading series - September 18
Please join the fun folks in Creative Writing today, September 18, at 4 pm at The Slice for the Fall semester's first #readingseries. This reading will feature fiction from Amanda Alexander and nonfiction from Camille Burger and Erin Willer. The reading will start promptly at 4 p.m., so if you're looking to enjoy some delicious pizza while you're there, please arrive early as The Slice can be charmingly slow. Hope to see you all there!
Voting for Homecoming's Mr. and Miss UE Has Begun!
Voting for Homecoming's Mr. and Miss UE began Monday, September 21 at 8:00 am, and will go until Tuesday, September 22 at 5:00 pm. To vote, go to Acelink! The winners will be announced during halftime of the men's soccer game on the following Saturday, September 26. Spread the word!
Catholic Mass on Sunday!
All are welcome to join us for the Catholic Mass on Sunday at 1 pm in Neu Chapel. Our celebrant this week will be Fr. Alex Zenthoefer of Annunciation Parish. Confessions will be available prior to Mass.
Please call/text Kristel at (812) 760-8610 for more information!

University Worship this Sunday! Tailgate Party to Follow!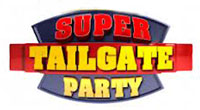 You're invited! University Worship this Sunday, September 18, 11:00 a.m., in Neu Chapel! This week student preacher Jalen Chestnut will be preaching, "Bless the LORD." Donuts and coffee bar before and after the service! All are welcome! The Tailgate Party will be in Grabill Lounge immediately follow morning worship. Free food and desserts!!
Fall Cheerleading Tryouts
Come help us cheer on our Purple Aces! Fall Cheerleading tryouts for the 2015 - 2016 season will be held Sunday, September 20 at 11 a.m. in Carson Center. Women and men are welcome! Contact Brent Couch at 746-3466 or bc165@evansville.edu. Hope to see you there!
Be part of a research study!
It's as easy as breathing! Dr. Kyle Kiesel and students in the Department of Physical Therapy are searching for individuals to participate in a research study investigating the relationship between breathing and movement. Participants should be between 20-50 years old. The testing session is a one-time commitment lasting approximately 45 minutes. Testing takes place Mondays 8 a.m.-2 p.m. Contact aw279@evansville.edu if interested to schedule your testing session.
UE Conference for Alumni of the Natural Sciences and Mathematics Is Sept 25-27
The University of Evansville Annual Conference for Alumni of the Natural Sciences and Mathematics is September 25-27. Several events are planned. The public is invited to attend.
The Dr. Guy Banta Distinguished Lecture Series is Friday, September 25 at 3:00 p.m. in Room 102, Koch Center of Science and Engineering on UE's campus. Speaker Kimberly Fessel will discuss "Playing it by ear -- the art of interdisciplinary STEM"
Fessel graduated from UE in 2006 with a BS in applied mathematics and professional chemistry. She earned an MS in applied mathematics in 2009 and a PhD in mathematics in 2013, both from Rensselaer Polytechnic Institute. Fessel is currently a postdoctoral fellow at the Mathematical Bioscience Institute at the Ohio State University. She is primarily interested in mathematical biology, asymptotic methods, and combining analytics with numerics to arrive at system solutions. Current areas of research include modeling cancer lineage, analyzing glucose-insulin dynamics, and developing a comprehensive model for the transduction of mammalian cochlea. Her talk will touch on this work and describe her own journey through several branches of STEM.
Also on Friday, there will be a Natural Sciences and Mathematics Reception from 5:00-7:30 p.m., in UE's Melvin Peterson Gallery.
For more information, download the flyer.
Award Winning Documentary on HPV Epidemic to be Shown on Campus
An award-winning documentary, "Someone You Love: The HPV Epidemic." will be shown on campus on September 23. The showing will be in Eykamp Hall in Ridgway University Center and will begin at 6:00 p.m. and is expected to last until 8:00 p.m. Admission is free.
WUEV Hosts "Bach Meets Baker" Concert Sunday
WUEV will host a concert entitled "Bach Meets Baker" on Sunday, September 20 at 7 pm in Wheeler Concert Hall. The concert will feature one of the world's premiere cellists, Manuel Fischer-Dieskau, as well as Monika Herzig (piano), Jeremy Allen (bass) and Joshua Roberts (drums) playing music ranging from J.S. Bach to jazz legend David Baker and other Indiana Jazz Artists. The event is a fundraiser for WUEV, with tickets being $10, and UE students being admitted free with a valid UE I.D. Pre-order tickets can be purchased on-line at www.uealumnionline.com/WUEVConcertSeries15.
Reminder: First Year Students Earn $5.00 for Taking IDEALS Survey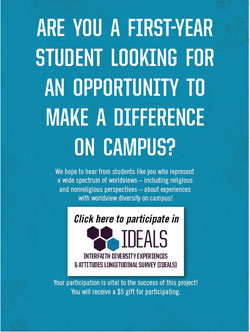 First year students can earn $5.00 just by taking the IDEALS survey, which was sent to their UE email account last week.
IDEALS is a national survey that will be used to identify high-impact practices associated with positive interaction across religious and spiritual diversity. According to Interfaith Youth Core, UE will be able to leverage these high-impact practices to create a healthy campus environment, introduce effective programming/experiences, and learn more about the religious climate on campus. This study is the first of its kind. Previous studies have provided a foundational understanding of interfaith interaction, but few tools fully explore the ways in which we can leverage campus experiences to promote effective interfaith work. IDEALS is designed as a longitudinal study that explores the way in which the UE campus can better understand what programmatic experiences are effective and helpful for students. Thank you for your participation in this important work!

September Pcard Cycle Reconciliation Due
The September Pcard cycle which began August 22 ends at midnight on September 21. As of September 23, cardholders may schedule and run the September Cycle report. September transactions may be reconciled in SDG2 until September 28. On September 28, the general ledger Pcard file will be uploaded and cardholders will be locked out of (unable to make changes) posted transactions for the September Cycle.
Volunteering Opportunity at Audubon State Park
There will be a volunteering opportunity at Audubon State Park on Saturday, Sept. 26, from 8:30 a.m.-noon. Meet at the Park Office/Welcome Center. Lunch will be provided
National Public Lands Day is the nation's largest single-day volunteer effort for America's public lands. This year marks the 21st annual celebration and we'd love you to join in. Lunch will be provided for volunteers. This is a great opportunity for church groups, scouts and others to help beautify the park. Volunteers should wear appropriate clothing for the weather and for trail improvement projects.
Groups and individuals interested in volunteering should contact Mark Kellen. Staff Contact: Mark Kellen at (270) 826-2247 or mark.kellen@ky.gov

Ralph Larmann, UE Professor of Art releases 2nd edition, of Gateways to Art
Thames & Hudson, The world's most distinguished publisher of illustrated books on art, history, and design announce the release of the second edition of Gateways to Art by Debra DeWitte, Ralph Larmann (UE Professor of Art), and Kathryn Shields. The text will be available on October 6, 2015. The original Gateways to Art text is currently the market leading art text in the world and has sold over 75,000 copies that are in use on over 300 college campuses across the United States. This new edition has been expanded to include a greater range of iconic artworks and more contemporary art, while still focusing on art as a global phenomenon. Professor Larmann not only contributes the majority of the written content, but also all line art and text design direction.
This is the third text by this author team published this year. In January the Gateways to Art AP* edition was released for use by high school students who are seeking advanced placement in college art history. On September 4th The Thames & Hudson Introduction to Art received a full page review in the Times of London that endorsed the book, describing its innovative structure as an, "… emphatically multivalent approach that makes this book special." The Thames & Hudson Introduction to Art will be available in most major museum bookstores in the United Kingdom and elsewhere internationally on September 21st.

Loyola Fall Invitational up next for UE women's golf
University of Evansville junior Kayla Katterhenry was victorious in the season-opening Redbird Invitational and looks to win her fifth career tournament as the Purple Aces head north to the Loyola Fall Invitational.
Flossmoor Country Club in Flossoor, Ill. will play host to the event, which will take place on Monday and Tuesday. Monday features two rounds with the final 18 set for Tuesday. Both days will see an 8:30 a.m. shotgun start. Par will be 73 and the yardage is 6,132. Ten teams will be participating including: Loyola, Butler, Chicago State, Detroit, Green Bay, Eastern Illinois, Evansville, Illinois-Chicago, Lewis and Southern Illinois.
In the opener two weeks ago, Katterhenry paced the field with a 3-round total of 220 to defeat Bradley's Ally Scaccia by one stroke. Her 2-over 74 in the final round helped her to clinch the fourth tournament victory of her career, extending her program record.
Finishing behind her was fellow senior Maggie Camp. She tallied a 242 in the three rounds to finish in a tie for 64th. Her best round of the event came on the last day as she recorded a 79. Third for UE was freshman Maria Pickens. In her first collegiate start, Pickens tallied a score of 246.
- INFO: For all of the latest information on University of Evansville golf, log on to the sport page on GoPurpleAces.com or follow the program on Twitter via @UEAthletics.
- DONATE: For information on giving to UE Athletics or its individual athletics programs, visit the DONATE tab on the top of GoPurpleAces.com.
- TICKETS: To purchase tickets for University of Evansville athletics events, log on to GoPurpleAces.com and click on the TICKETS tab on top of the page.
UE Women's Soccer at Vanderbilt on Sunday
The University of Evansville women's soccer team is at Vanderbilt on Sunday, Sept. 20. The match will be held at the VU Soccer/Lacrosse Complex and begin at 4:00 p.m. CDT.
UE Women's Soccer Falls 2-0 at Saint Louis
The University of Evansville women's soccer team (2-6-1) was defeated 2-0 at Saint Louis (5-3-0) on Thursday night. Junior midfielder Bronwyn Boswell had a team-high four shots (two on goal).
"We battled hard with a few changes in the lineup," said Evansville head women's soccer coach Krista McKendree. "I'm proud of the effort of the ladies."
Saint Louis went ahead in the 14th minute with a goal from Maddie Pokorny.
Trailing 1-0 at half, Boswell tried to tie the match for UE in the 50th minute but her shot went wide.
Ahead by one, SLU increased their lead with a Danielle Tolmais goal in the 58th minute.
Boswell also had a shot in the 62nd minute that was saved by Saint Louis goalkeeper Tristin Stuteville and another attempt in the 63rd minute that went wide. Boswell's 66th minute header was also stopped by Stuteville.
Freshmen Molly Lear and Sara Osinski tallied one shot each in the 2-0 loss.
UE will now visit Vanderbilt on Sunday, Sept. 20 for a 4:00 p.m. CDT match. The Aces then return home to start Missouri Valley Conference play against Loyola on Saturday, Sept. 26. It will be the team's annual Multiple Sclerosis game and Homecoming with kickoff set for 3:00 p.m. CDT.
INFO: For all of the latest information on University of Evansville athletics, log on to the sport page on GoPurpleAces.com or follow the program on Twitter via @UEAthletics.
DONATE: For information on giving to UE Athletics or its individual athletics programs, visit the DONATE tab on the top of GoPurpleAces.com.
TICKETS: To purchase tickets for University of Evansville athletics events, log on to GoPurpleAces.com and click on the TICKETS tab on top of the page.
Cross country travels south to Commodore Classic
– Last weekend in Peoria, Ill., the University of Evansville cross country teams slashed minutes off of their season-opening times. The Purple Aces hope that continues as they head to Nashville, Tenn. for Saturday's Commodore Classic.
Beginning the action on Saturday will be the 8K men's race at 9 a.m. before the women run a 5K event at 10 a.m. Both races will take place at Percy Warner Park.
Three nationally ranked teams will be running including: #12 Michigan women, #15 Ole Miss men and #22 Vanderbilt women. The Commodore women are ranked No. 1 in the south region according to the USTFCCCA's regional poll. There are also seven teams ranked in the South Region's top 15 who will be running on the women's side along with seven regionally ranked men's squads.
Last weekend at Bradley, freshman Sienna Crews was once again the top finisher for the women. She had a stellar race, coming home in 12th place with a time of 17:49.3. It was a great effort as she lowered her time from her debut of 19:01.1. Making her effort even more impressive was that her finish came in a race that featured a total of 110 runners.
Finishing second for the Aces was senior Elizabeth Kingshott. Her time of 18:40.5 was good for 27th place. Ashton Bosler, another freshman for UE, was the third to cross the line for the team. She ran a 19:16.3, which bested her Early Bird Invite time of 21:12.0. Bosler came home in 34th place.
Junior Ross Frondorf led the way for the men in Peoria. In an 8K race that had 78 runners, Frondorf finished in 32th place in a time of 28:31.3. He knocked 2:13 off of his race in the Early Bird Invite. Ben Woolems was not far behind as he came home in 37th, posting a time of 29:01.1. He cut over a minute off of his time in the opener. Crossing the line third for the men was freshman Andrew Barrett.
- INFO: For all of the latest information on University of Evansville cross country, log on to the sport page on GoPurpleAces.com or follow the program on Twitter via @UEAthleticsWXC.
- DONATE: For information on giving to UE Athletics or its individual athletics programs, visit the DONATE tab on the top of GoPurpleAces.com.
- TICKETS: To purchase tickets for University of Evansville athletics events, log on to GoPurpleAces.com and click on the TICKETS tab on top of the page.
Miranda near the top of NCAA as UE heads to Michigan
Sitting near the top of the NCAA in kills and points, University of Evansville sophomore Genesis Miranda and the Purple Aces volleyball team travel to Mt. Pleasant, Mich. for the Chippewa Challenge.
Evansville begins the tournament on Friday against the host Chippewas before facing Nebraska Omaha and San Jose State on Saturday.
The unbelievable start to the season for Genesis Miranda has resulted in her being near the top of the NCAA in two of the most important offensive categories - points and kills. With 5.58 points per set, Miranda ranks fifth in all of the NCAA. Her 4.69 kills puts her in 11th in the nation. On top of that, Miranda leads the Missouri Valley Conference in both of those statistics.
Offensive numbers were up across the board as the Purple Aces began their home schedule over the weekend in the Dunn Hospitality Tournament. Through its first eight matches away from home, UE hit .195 while averaging 12.27 kills per set. In the three home matches, Evansville improved drastically, hitting .278 with 14.11 k/s.
Kim Deprez and Genesis Miranda were named to the Dunn Hospitality All-Tournament Team on Saturday thanks to stellar weekends. Deprez notched a total of 46 digs, an average of 5.11 per set and has moved back up to second in the MVC in that category. Miranda extended her lead in the Valley in kills and points as she notched a total of 44 kills to sit atop the league with 4.69 per set. She also leads the way with 5.58 points.
Freshman Mildrelis Rodriguez has been strong all season for the Aces, but what has been impressive has been her maturity. In the opening weekend at Wright State, Rodriguez attempted 7.3 attacks per set and averaged 1.58 kills while hitting .125. In the home-opening weekend, she had less attempts (6.9), but chose her spots in a way that saw her record 3.11 kills and hit .306.
Miranda has notched at least 12 kills in all 11 of UE's matches in 2015. She capped off the home-opening tournament with 18 vs. NKU after having an efficient start to Saturday against Western Illinois, hitting .294 with 14 kills. She has recorded 17 service aces thus far and continues to near last year's total of 23.
Hosting this weekend's tournament is Central Michigan, who is 3-7 entering the weekend. In last weekend's Fresno State Invite, the Chippewas defeated Cal State Fullerton before falling to Sacramento State, UC Riverside and Fresno State. The other wins for CMU came against UIC and Binghamton earlier in the season. Jordan Bueter has been one of the top offensive player, recording 3.24 kills per set while Jamison Wolffis has led the defense with 4.44 digs. Central Michigan is the #2 hitting team in the Mid-American Conference, checking in at .213.
The Mavericks come into the weekend with a 4-6 record following a 2-1 trip to Kansas City last week. In the UMKC Kangaroo Classic, the Mavs defeated SIUE and Bradley before falling to UMKC in the finale. Omaha ranks as the top defensive team in the Summit League, posting a league-best 16.25 digs per set. On the individual side, Sydney O'Shaughnessy is 2nd in the conference with 9.75 assists per set with Megan Schmale ranking 2nd in blocks with 1.23.
Starting the season with a 6-4 mark through their first 10 matches is San Jose State. The Spartans swept through the UMass Lowell Invitational a week ago, posting wins over UMass-Lowell, Quinnipiac and Holy Cross. Another stellar defensive squad, SJSU has allowed opponents to hit just .137 this year, the best in the Mountain West Conference. They also lead the conference in service aces with 1.69/set.
- INFO: For all of the latest information on University of Evansville volleyball, log on to the sport page on GoPurpleAces.com or follow the program on Twitter via @UEAthletics_VB.
- DONATE: For information on giving to UE Athletics or its individual athletics programs, visit the DONATE tab on the top of GoPurpleAces.com.
- TICKETS: To purchase tickets for University of Evansville athletics events, log on to GoPurpleAces.com and click on the TICKETS tab on top of the page.
Contribute to AceNotes
To have content considered for inclusion in AceNotes, please submit a Marketing Request Form. Deadline for submission to AceNotes is 10:00 a.m. on the requested date of publication. Only articles concerning UE related/sponsored activities will be accepted. Articles submitted to AceNotes may be edited for length and clarity. Submitter contact information is at the end of each article.