| | |
| --- | --- |
| AceNotes Today | Tuesday, September 8, 2015 |
Enrollment and Fiscal Update Forums Planned
The University will be conducting forums on September 8 and September 9 to provide enrollment and fiscal updates to the campus community. The forums will be conducted by Jeff Wolf, Vice President for Fiscal Affairs and Administration, and Shane Davidson, Vice President for Enrollment Management. The sessions will be held in Eykamp Hall, Room 251 of the Ridgway University Center. The first session will be from 10:00-11:15 a.m. on September 8. For those unable to attend that session, a second session will be held from 3:00-4:15 p.m. on September 9. We encourage all faculty, staff and administrators to attend if possible.
UE Students - Compete in Changemaker Challenge for over $3000 in Prizes to Support Your Ideas for Change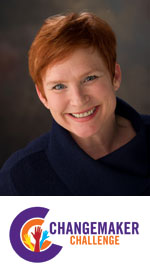 Would you like to help make Evansville a stronger community? If so, be sure to attend the Changemaker Challenge kickoff event on September 8 at 4:15 p.m. Room 100 in Koch Center.
The Changemaker Challenge gives UE students the chance to compete for over $3,000 in prizes to support their ideas for change!
The audience will be briefed on some of Evansville's most pressing needs and ways to be become part of the solution! Students of all majors and class levels are encouraged to attend and learn more about how to participate in the Changemaker Challenge. Kickoff speakers will include Lynn Miller-Pease of Leadership Evansville, President Kazee, Mayor Lloyd Winnecke, and the leaders of the Social Innovation Club. A reception and contest registration will follow.
The Changemaker Challenge is dedicated to launching the world's next wave of social entrepreneurs and innovators. It encourages the brightest University of Evansville minds to compete in teams to solve our planet's biggest challenges with innovative ideas for sustainable solutions and enterprises. The Changemaker Challenge provides the top three finishers with seed funding to help make their ideas become a reality.
To learn more, visit www.evansville.edu/cc or e-mail ck116.
Venturing Crew Open House today at 5!
Do you enjoy hiking, camping, skiing, rock climbing, sailing, canoeing, kayaking, etc.? If so, the Venturing Crew might be for you! UE's outdoor club will have an open house on September 8, at 5 p.m. in Eykamp Hall in Ridgway University Center, to discuss past trips, upcoming adventures, and how to register. If you are ready to register make sure to bring $25 and an extra $5 if you would like a Venturing Crew t-shirt as well. T-shirts after the Open House will be $8, so don't miss out on this deal! Email sc226@evansville.edu for more info.
This Week in Music: Saxophone Recital
This week's Tuesday evening faculty recital will feature Assistant Professor of Music Education and Saxophone Shawn Teichmer in a program of works from the Modern era. Pianist Jaime Teichmer and Consortium Instructor of Percussion Ross Erickson will accompany Dr. Teichmer on selections that will include an arrangement of Claude Debussy's Rapsodie for saxophone and orchestra and Benjamin Crockett's Johannine, a new work premiered by the Teichmer duo at the World Saxophone Congress and Festival in Strasbourg this past July. The program will also include works by American composer David Maslanka, Dutch avant garde composer Jacob ter Veldhuis (also known as JacobTV), and British composer David Heath. The recital will begin in Wheeler Concert Hall at 7:30 p.m. and is free and open to the public.
Time Management and Study Skills Workshop Is Today
Time Management and Study Skills Workshops will be held for First Year Seminar students on Thursday, September 10 at 3:00 p.m. and Tuesday, September 15 at 5:00 p.m. in The Writing Center, Room 153, Clifford Library. Bring your syllabus from each class and your calendar/planner if you have one.
Free HIV Testing on Friday, September 11
Free HIV Testing will be held in the Health Center on September 11 from 9:00 a.m. - Noon. Please call 812-488-2033 to sign up for your confidential appointment.
Panel Discussion: Prison and Beyond: On Women's Incarceration and Rehabilitation
One Book One Community of Southwestern Indiana invites the UE community (students, faculty, and staff) to attend the panel discussion entitled "Prison and Beyond: On Women's Incarceration and Rehabilitation" this Wednesday, September 9 at 7:00 p.m. in the Vectren Auditorium at Ivy Tech Community College. Attendance is free and refreshments will be served.
This panel discussion is inspired by this year's One Book One Community book selection, Orange is the New Black by Piper Kerman.
The panel includes: Melissa Stacer, assistant professor of criminal justice (USI), Margaret Stevenson, associate professor of psychology (UE,) Jennifer Schaefer, assistant professor in criminal justice (Ivy Tech), Ben Joergens, financial empowerment officer (Old National Bank), Jodi Uebelhack, director of a recovery program and prosecuting attorney, and several women who have participated in the prison recovery program.
For more information contact UE assistant professor of Spanish Diana Rodríguez Quevedo (event co-coordinator) at dr130@evansville.edu
Or visit the following:
http://evpl.org/onebook/
https://www.facebook.com/events/299649463543528/
https://www.facebook.com/events/1470498283253857/
http://www.courierpress.com/news/local-news/experts-and-exoffenders-will-offer-views-at-ivy-tech-event-will-serve-as-prep-for-piper-kerman_63533415

Fall Healthy Lifestyles Challenge is September 21 – November 15
The Fall Healthy Lifestyles Challenge is September 21 – November 15. Complete rules and a weekly tally form is in AceLink>Wellness>Healthy Lifestyle Challenge. If you want to receive weekly tally forms plus additional health information, please click here to sign up. Please contact mw307@evansville.edu with questions.
Yoga class begins Wednesday, Sept. 9
The first Yoga class will be on Wednesday, September 9, at 5:30 p.m. Yoga classes are scheduled for Monday and Wednesday at 5:30 pm beginning September 14. All other Fitness Center classes will start Monday, September 7.
Fall Health Screenings
Employee Health Screenings will be held September 15-17 from 7 am – 11 am in Eykamp Hall, Ridgway University Center. Employees who are enrolled in the HRA Insurance Plan are eligible to attend and receive HRA Credits. If you participated in the June Health Screenings, there is no need to participate in the September screenings. Individuals are only eligible to receive credit one-time each year.
Employees can only schedule their appointments for the Health Screenings on Acelink. An employee can schedule up to 2 appointments (employee + spouse) when they sign in to AceLink.
An 8-hour fast is required, 12-hour fast is recommended because triglycerides are included with the blood fat/cholesterol testing. Hydration is important when fasting, water and black coffee are allowed prior to testing.
Cincinnati Reds vs. Cardinals trip
The Center for Student Engagement is sponsoring a trip for the first 80 students who sign up to travel by charter bus to Cincinnati, OH to watch the Reds play the St. Louis Cardinals. The trip will be on Saturday, Sept. 12, departing at 8 pm and returning later that evening. The cost is $20 to assist with travel costs.
To register go to: www.uealumnionline.com/cardinalsvsreds between Sept. 7 and end of day on Sept. 8, or stop by the table in Ridgway from 11 a.m.-1 p.m., on Tuesday, September 8.
Graduate Expo at IUPUI
There will be a Graduate Expo at IUPUI September 24, from10:00 a.m. to 2:00 p.m.
Drop in for information about graduate programs at IUPUI and more than 40 other college and universities throughout the U.S. You may also be interested in our 50 minute breakout sessions between 10:30 a.m. and 1:30 p.m. on GRE Test Preparation, Funding for Grad School, and Using LinkedIn.
Register: Fair registration is through UE JobLink. Click Jobs Tab -> Enter 901412 in the search bar (this is the posting number).
Transportation: The University of Evansville will provide transportation. There is a $10.00 deposit required that will be refundable upon attendance. Reserve your seat now through Career Development.

UE Faculty/Staff Photography Exhibit
All UE faculty and staff photographers are invited to submit up to two matted and framed photographs for exhibition in the Krannert Gallery, Sept. 21-Oct 23.
Please drop off your work in the Art Office prior to Sept. 15. Include a tag on the back with your name, address, phone and email, as well as the title of the piece, type of photograph, and insurance value. (Also indicate if it is for sale.
For more information, contact Corliss Chastain, director of UE Art Galleries, 207-650-6073
UE Leadership Academy - Application Link
Calling all leaders on campus! We would like to encourage YOU to join UE Leadership Academy. Learn how to develop your leadership skills and improve your other organizations on campus. Click on this link http://goo.gl/forms/7A8nYnP8JR for the application. Applications are due Sept 11 at 5 pm (this Friday). Interviews will be scheduled from Sept. 16-18.
Questions? Contact Anna Kalt (ak195), Andrea Nelson (an122) or Megan King (mk225).
Hosts Needed for Overnight Visit Programs!
Are you interested in hosting a prospective student? The Office of Admission will be holding several overnight visit events this year and are looking at current students to help host. The first opportunity to host a student would be Thursday, September 17 with dinner being provided at 6:00 p.m. If you are interested in being a host, please email Catie Taylor at ct37 with you hall, room number, and phone number
Research Assistance at the Library
The library invites students and faculty to take advantage of our Research Assistance Program, which we offer to every member of the UE community, and which is available right now, even while renovations are underway.
Research Assistance provides personalized, one-on-one guidance in the most effective use of the University Libraries' collection of online resources. Students, faculty and other researchers meet in a private session with a research librarian arranged by appointment at the researcher's convenience.
While renovations are underway, Research Assistance is available Monday through Friday. Interested researchers can sign up online at the University Libraries' web page. Simply follow this link: https://www.evansville.edu/libraries/rapSignup.cfm
For more information concerning Research Assistance, contact Randy Abbott at 812-488-2727 or e-mail ra2@evansville.edu with questions.

Reminder for First Year Students: IDEALS Survey Coming Soon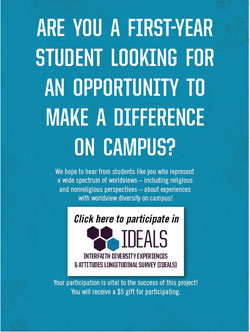 First year students will be receiving the Interfaith Diversity Experiences & Attitudes Longitudinal Survey (IDEALS) in a few shorts days! Thank you for being willing to participate in this important research! Students who take the survey will be provided $5.00 in cash!!
IDEALS is a national survey that will be used to identify high-impact practices associated with positive interaction across religious and spiritual diversity. According to Interfaith Youth Core, UE will be able to leverage these high-impact practices to create a healthy campus environment, introduce effective programming/experiences, and learn more about the religious climate on campus. This study is the first of its kind. Previous studies have provided a foundational understanding of interfaith interaction, but few tools fully explore the ways in which we can leverage campus experiences to promote effective interfaith work. IDEALS is designed as a longitudinal study that explores the way in which the UE campus can better understand what programmatic experiences are effective and helpful for students. Thank you for your participation in this important work!

Tobacco-Free Reminder
The level of cooperation of students, staff, and faculty related to UE's new Tobacco-Free policy is very much appreciated.
As a reminder, please take care to not smoke or litter on University or neighborhood properties adjacent to city sidewalks.
For more information about our Tobacco-Free policy and resources please view our Webpages at:
Volunteering Opportunity at Audubon State Park
There will be a volunteering opportunity at Audubon State Park on Saturday, Sept. 26, from 8:30 a.m.-noon. Meet at the Park Office/Welcome Center. Lunch will be provided
National Public Lands Day is the nation's largest single-day volunteer effort for America's public lands. This year marks the 21st annual celebration and we'd love you to join in. Lunch will be provided for volunteers. This is a great opportunity for church groups, scouts and others to help beautify the park. Volunteers should wear appropriate clothing for the weather and for trail improvement projects.
Groups and individuals interested in volunteering should contact Mark Kellen. Staff Contact: Mark Kellen at (270) 826-2247 or mark.kellen@ky.gov

Gieselman and Reed Invited to Participate in IU Conference
Tammy Gieselman, University Chaplain, and Douglas Reed, University Organist Emeritus, have been invited to participate in the Fall Organ Conference sponsored by the Indiana University Jacobs School of Music, September 13-16, 2015. Gieselman and Reed will serve as panelists during the Monday afternoon session with New York Times best-selling author, TIME magazine's 2014 list of most influential people in the world, professor, and Episcopal priest, Barbara Brown Taylor. The panel discussion will formulate a response to Taylor's morning lecture, "What in God's Name Are You Doing?" The Conference is an ecumenical symposium designed to explore vocation in worship and the arts by bringing together musicians and clergy to participate in sessions on the present and future of sacred music, pedagogical workshops and master classes. More information can be found at: http://music.indiana.edu/departments/academic/organ/files/Organ-Conference-2015-Flyer.pdf
Katterhenry wins Redbird Invitational
University of Evansville junior Kayla Katterhenry posted a 2-over 74 to earn the fourth victory of her career at the Redbird Invitational at Weibring Golf Club.
Katterhenry paced the field with a 3-round total of 220, just four over par. She held off Bradley's Ally Scaccia by just one stroke while Kiley Walsh from Illinois State came home third, just two off the win.
"I am pleased with how I was able to play this weekend," Katterhenry said. "I was able to keep my concentration in some very warm conditions. Keeping my shots in the fare way was very important and I also got a few breaks on some putts. This is a great start and gives us all a lot of confidence going forward."
Head coach Jim Hamilton echoed those sentiments.
"We are very proud of the way that Kayla performed in the tournament. She was very confident going into the weekend and played like that," Hamilton said. "A lot of credit also goes to assistant Quinn Vilneff. He stayed with her today and helped her to stay focused and assist her in any way possible. It was also a great start for the team as a whole. We are very young and were able to improve in each round."
The Purple Aces shot their best round of the tournament on Monday, checking in with a 312 to finish in a tie for 13th. Katterhenry's final of 220 led the way while Maggie Camp finished behind her with a 242 to finish in a tie for 64th. She registered her best round of the event on Monday – a 79.
Third on the team was freshman Maria Pickens. Pickens wrapped up her first collegiate event with a 246 thanks to an 83 in the last round. Sophomore Giulia Mallmann saved her best for last. Mallmann carded a 79 in the last round. Rachel Marchi also had a stellar final round. She had the lowest round of her career, finishing with an 80. It eclipsed her previous best by seven strokes. Individual Madison Cheney completed the tournament with a 246.
Bowling Green shot the lowest team round of the event to take the team championship. The Falcons recorded a 293 to finish with a 905. That came in eight strokes ahead of a second-place tie between Northern Illinois and Bradley.
The next tournament for the Aces will be on Sept. 21 and 22 when the squad heads to Flossmoor, Ill. for the Loyola Fall Invitational.
- INFO: For all of the latest information on University of Evansville women's golf, log on to the sport page on GoPurpleAces.com or follow the program on Twitter via @UEAthletics.
- DONATE: For information on giving to UE Athletics or its individual athletics programs, visit the DONATE tab on the top of GoPurpleAces.com.
- TICKETS: To purchase tickets for University of Evansville athletics events, log on to GoPurpleAces.com and click on the TICKETS tab on top of the page.

Volleyball travels to Tennessee today
The University of Evansville volleyball team will play on a national stage today as the Purple Aces travel to the University of Tennessee for a 7 p.m. ET match that will be televised live on the SEC Network Plus.
One of the most exciting atmospheres was on tap last season when the Purple Aces took on Tennessee at the Carson Center, this season the series moves south to Knoxville where the Aces take on the 8-0 Volunteers.
Following a 3-1 start to the season, the Aces dropped three tilts at the DePaul Invitational, falling to Eastern Illinois, DePaul and Toledo. Evansville played well in the final two matches of the event, battling the Blue Demons to the finish, including a 33-31 defeat in a marathon third set. In the finale against the Rockets, UE won the first two sets, but Toledo rallied back, clinching the match by winning the final three.
Continuing her success on both sides of the floor has been sophomore Genesis Miranda. In four matches last weekend, she averaged 4.65 kills per set, adding a total of 79 to her season tally. She has registered at least 12 kills in all seven matches and capped off the weekend in Chicago with a career-best 27 kills. It was one of the most accurate efforts of her career as she hit .328 versus the Rockets. Miranda was named to the All-Tournament Team for her efforts.
Miranda continues to be one of the top players in the Valley. Her 5.43 points per set leads the league while her 4.52 kills per frame puts her second. With 29 service aces thus far, ranks in the top five in the conference.
Pacing the freshmen has been Mildrelis Rodriguez. She has notched nine or more kills in four of UE's first seven matches. Rodriguez is coming off of the top offensive performance of her young career, registering a career-best 18 kills versus Toledo where she also hit .300. On the defensive end, Rodriguez ranks second on the team with 85 digs.
Evansville also has the top freshman blocker in the MVC. Rocio Fortuny ranks seventh in the league with 1.07 blocks per set. Her 28 block assists and 31 total blocks leads the UE squad.
Elizabeth Giller continues to be the most accurate hitter for the Purple Aces. Checking in at .310, Giller has recorded 38 kills in the opening seven matches.
Stephanie Cerino is off to the best start of her 4-years at UE. After earning a spot on the All-Tournament Team in the season-opening Holiday Inn Classic, Cerino has kept it rolling as she ranks second on the team with 74 kills, an average of 2.55 per set. Her previous career mark was 1.53 per set in 2012.
After going 8-24 a season ago, Tennessee has already matched their season win total in just two weekends and stand at a perfect 8-0. Over the weekend, they went 4-0 in the DISH Tennessee Volleyball Classic, defeating Tennessee Tech, UNC Greensboro, North Florida and Eastern Kentucky. Defensively, the Volunteers have been one of the best in the SEC, ranking second in opponent hitting (.111) and digs per set (16.39). Leading that defense has been Bridgette Villano, whose 4.56 digs ranks third in the league. Kanisha Jimenez leads the offense as her 3.29 kills is tops amongst the Volunteers.
- INFO: For all of the latest information on University of Evansville volleyball, log on to the sport page on GoPurpleAces.com or follow the program on Twitter via @UEAthletics_VB.
- DONATE: For information on giving to UE Athletics or its individual athletics programs, visit the DONATE tab on the top of GoPurpleAces.com.
- TICKETS: To purchase tickets for University of Evansville athletics events, log on to GoPurpleAces.com and click on the TICKETS tab on top of the page.
UE Women's Soccer to Hold Military Appreciation / Wounded Warrior Night on Friday
The Purple Aces return home to host Belmont on Friday, Sept. 11 for the team's Military Appreciation / Wounded Warrior Night.
All current or retired military members, with a valid ID, will receive free admission for themselves and a guest. Additional family tickets for our military members are just $5 each.
The match will be held at Arad McCutchan Stadium and begin at 7:00 p.m. CDT.
Contribute to AceNotes
To have content considered for inclusion in AceNotes, please submit a Marketing Request Form. Deadline for submission to AceNotes is 10:00 a.m. on the requested date of publication. Only articles concerning UE related/sponsored activities will be accepted. Articles submitted to AceNotes may be edited for length and clarity. Submitter contact information is at the end of each article.