| | |
| --- | --- |
| AceNotes Today | Monday, March 7, 2011 |
Welcome to the NEW AceNotes
You asked. We listened. AceNotes has a new look today. Many have asked that it be shorter, as long as their information isn't cut. We have reviewed other e-newsletters and hope this meets both needs. There are enough words to be more than a headline and if people want more, they can click for it.

That example was the 55 words allowed in the template. You can see that it goes to a complete story if you click for more. Please keep that in mind as you submit future AceNotes as it relates to what information will show without having to click for more detail. We hope this is a solution that will work best for all. Please let us know if you have any questions or concerns, at uerelations@evansville.edu
Tax Planning
The Lunch & Learn Series (bring your lunch) is Tuesday, March 8, noon–12:50 p.m., Room 100, Koch Center. Dr. Nelson Rivers will discuss tax planning versus tax preparation; formula for determining one's tax liability; current tax law changes; and most common tax mistakes. This is sponsored by the Center for Adult Education. For more information, contact Judy Caldwell at jc313@evansville.edu or 488-2476.
Installation and Reception for White Family Professorship
Susan Kupisch, Senior Vice President for Academic Affairs Susan Kupisch invites the UE community to the installation of the White Family Professorship honoring Amy Hall, PhD, chair of the Dunigan Family Department of Nursing and Health Sciences, as the inaugural professor. Also being honored is Linda E. White for her continued support of UE. The Installation Ceremony and reception is set for Monday, March 21 in Eykamp Hall, Ridgway University Center. The ceremony is at 4 p.m., followed by the reception at 4:30 p.m.
Freedom Activist to Speak on Campus on March 23
Foundation for Economic Education President Lawrence Reed, a celebrated activist for freedom, will lecture on campus on March 23. His first talk – Witch Hunting for Robber Barons: The Standard Oil Story" – is at 4 p.m., Room 162 (Harkness Hall), Schroeder Family School of Business Administration. His second – "Seven Principles of Sound Public Policy: A Lecture on Economics" – is at 7 p.m., Room 170 (Smythe Lecture Hall), Schroeder Family School of Business Administration Building. This is sponsored by the Kern Family Foundation and the Institute for Global Enterprise in Indiana. Reed traveled with the Polish anti-communist underground in 1986; spent time with the contra-rebels during the Nicaraguan civil war; and lived for two weeks with Mozambique rebels in 1991.
Hungarian Mathematician Kristof Huszar Coming to UE
Kristof Huszar will speak at the Institute for Global Enterprise in Indiana's Multicultural Lecture Series event on Monday, March 14 at 4 p.m., Room 170 (Smythe Lecture Hall) Schroeder Family School of Business Administration Building. He will discuss "Creating a Culture of Problem Solving: The Hungarian Approach to Education," This event is free and open to the public. A reception follows in the Schroeder Family School of Business Administration Building Atrium.
SAB St. Patrick's Day Bingo
The Student Activities Board will host St. Patrick's Day Bingo on Monday, March 14, at 8 p.m. in Eykamp 251, Ridgway University Center. This will be the LAST game of bingo of the year! Prizes include $100 cash, a Green iPod, a $50 movie package, and many, many more!
TIAA-CREF Counseling Sessions Dates
The TIAA CREF representative will be here Wednesday, March 9 and Friday, March 11 for individual counseling sessions in the Library's Clifford Rare Books Room (Room 158). To schedule an appointment, call TIAA CREF at 1-800-732-8353 or 812-349-4443. If you have questions, call Carol McCraney at extension 2943.
Recycle Outdated Files Now and Be Part of Recycle Mania!
This year's Recycle Mania competition ends April 2! If paper in your office or department storage area is getting in the way, consider donating it to Recycle Mania. Spring break might be an opportune time to purge outdated files! Anything paper is accepted: office paper, hard and softbound books (including phone books), magazines, catalogs, newspaper, etc.
Need More than a Job this Summer?
Looking for more out of summer than just a boring job? How about an experience? Join the Residence Life Summer Staff! Residence Life is looking for enthusiastic, hardworking, and reliable students to work with its Summer Conference programs. You will work with summer residents and provide customer service to a variety of age groups during conferences. Come to an info session on Tuesday, March 15 in Eykamp 253, Ridgway University Center, at 9:15 pm."
Volunteers Needed
Holiday Retirement Village is looking for volunteers to help set up a Mardi Gras Party on March 7 from 7-8 p.m. If interested contact Volunteer Services Office at vso@evansville.edu.
File the 2011-2012 FAFSA by March 10 - Watch New Video
Be sure to file the 2011-12 Free Application for Federal Student Aid (FAFSA) at www.fafsa.gov to be considered for federal, state and University financial aid, including federal student loans. The 2011-12 FAFSA establishes aid eligibility for fall 2011 through summer 2012.
Students from Indiana must ensure that their 2011-12 FAFSA is received by the federal processor no later than March 10, 2011; however, filing by March 10 is beneficial for all students. Questions regarding the FAFSA should be directed to the Office of Financial Aid at 812-488-2364, 800-424-8634 or financialaid@evansville.edu.
NEW: Watch a presentation by Director of Financial Aid, JoAnn Laugel. She'll explain scholarship and financial aid renewal for next year. http://uofevansville.na5.acrobat.com/p68055852/
UE Libraries Spring Break Hours
Libraries will observe the following schedule of hours during Spring Break. Contact William Louden, University Librarian, with questions at 488-2376.
Monday, March 7: 7:45 a.m.–5 p.m.
Tuesday, March 8: 7:45 a.m.–5 p.m.
Wednesday, March 9: 7:45 a.m.–5 p.m.
Thursday, March 10: 7:45 a.m.–5 p.m.
Friday, March 11: 7:45 a.m.–5 p.m.
Saturday, March 12: CLOSED
Sunday, March 13: 3 p.m.-Midnight
Monday, March 14: Resume regular hours
Bookstore Saturday Hours Revised
The Bookstore will be open Saturday, March 5 with shortened hours from 11 a.m. to 2 p.m. The Bookstore will have regular hours during Spring break Monday-Friday but will be closed on Saturday, March 12. It was previously posted that the store would be closed March 5.
Congrats to Pi Gamma Mu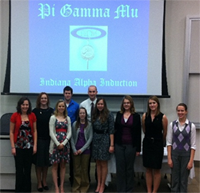 Pi Gamma Mu, International Honor Society in the Social Sciences, initiated 22 members into the Indiana Alpha Chapter at the University of Evansville on March 3. Founded in 1924, Pi Gamma Mu is the oldest honor society in the social sciences, with over 200,000 members at 170 chapters in the United States and abroad. The Indiana Alpha Chapter at UE was chartered in 1929, and was the first in the state of Indiana. This induction class is the first from the Chapter since 1973.
Baseball
The UE baseball team beat Eastern Illinois, 4-1, in the Dunn Hospitality Diamond Classic. The skies cleared for the Aces Sunday, who were set to compete against EIU and Northwestern in a three-day tournament, but rain then forced a one-day doubleheader with the Panthers. The Aces head south this week, taking on Jacksonville on Tuesday and Wednesday at 5:30 p.m. Then UE goes to Tampa to face South Florida on Friday and Saturday for a three-game series.
Women's Basketball
The UE women's basketball team fell to Wichita State, 65-50, Saturday in the regular season finale. The contest marked Senior Day and the last UE basketball game in Roberts Stadium. Evansville will have the No. 9 seed in next week's Missouri Valley Conference Tournament at the Family Arena in St. Charles, Mo. UE plays Bradley at 5:05 p.m. Thursday in the opening round.
Swimming
The UE men swimming and diving team finished the 2011 regular season with a seventh place finish at the Mid-American Conference Championships.
Contribute to AceNotes
To have content considered for inclusion in AceNotes, please submit a Marketing Request Form. Deadline for submission to AceNotes is 10:00 a.m. on the requested date of publication. Only articles concerning UE related/sponsored activities will be accepted. Articles submitted to AceNotes may be edited for length and clarity. Submitter contact information is at the end of each article.